When Yuvraj Singh was scripting a fascinating win over Australia in the quarterfinals we Indians were getting more excited thinking about the next big game – a World Cup Semifinal between India and Pakistan – it just can't get better than that. As expected this became one of the biggest topic in the Indian media and I am only enjoying this hullaballoo.
Suddenly all discussions at the office canteen over lunch, over tea breaks turned from gossips and Hitler bosses to the big match awaiting. We are busy digging up all the past statistics and team trends and feeling happy about it.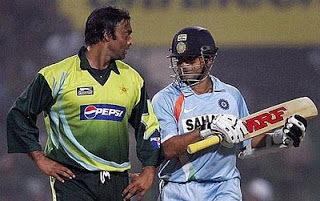 I was just thinking amidst this entire pandemonium how am I going to catch up with the match on a Wednesday? I am always buried under piles of work which only seems towering as the clock closes on 530 every evening. I remember how the whole office was deserted last Thursday evening during the India OZ match and I was working with only a few people present in the entire building. How I was cursing all those lucky fellows who left early and trying to keep myself updated through cricinfo and at times catching up the live streaming at websites.
I was making up my mind that Wednesday I am falling sick and in no way am I missing the action. How I wish I could be at the war front to witness the battle at Mohali. With news of organizations giving leaves or a half day off for the match was only making me jealous and determined for the sick leave! But now I have a reason to smile. Guys at our company have finally decided to telecast the live match in big screens. [I think they wanted to avoid the mass sick leave approval s:D]
Just read how Mohali has become a virtual fortress and a no fly zone. I cannot guess enough how much of mental pressure the players might be in. From a high voltage cricket event it is becoming a high profile diplomatic event with the two PMs attending the match.
I think Team India can win any match and overcome any obstacle if they stick together and play like The Team. Winning is not in hands of a single or two-three players, it's when all 11 hold hands to bring victory home. My sincere wishes and prayers are with you Team India, am keeping my fingers crossed. Please bring us the good news.