What is freedom according to you? Staying in a free country? Having freedom of speech? Are you thankful for freedom in your life? It is a blessing when you are born in a free country. It is a blessing when you are allowed to live your way. I stay in a free country – but is everyone allowed to live the way they want?
Sometimes I am happy I am born in an Independent democratic country and not somewhere in North Korea or in Syria! I am alive, I am leading a life, unlike the unfortunate people who are caught in the political and communal struggle in these places. I am thankful for freedom I have and let me tell you how fortunate I am when compared to many others across the world.
Thankful For Freedom of Education
I am thankful I am born to parents who value education. I have always been encouraged to take up any field of study and not necessarily become a doctor because my dad is one. Imagine if I was born in a family which thought educating the girl child was of no use!
Thankful for Freedom of Culture
I come from a place where history, culture, art everything is celebrated. You can visit any household in Kolkata and you will find the kids are either learning dance (classical or modern), learning to sing (Rabindra Sangeet/ Hindustani classical/western/jazz), are excellent painters, are doing theatrics, drama, recitation – yes we are close to art and culture and we love it. I am thankful I am born in such an environment that allows and celebrates when I am a Kathak dancer.
Thankful for Freedom of Marriage
I am thankful I have not been forced into marrying anyone whose double my age or who doesn't have a good education just because I am a girl and the parents 'sole duty' in life is to get the daughter married off!
Thankful for Freedom of Work
I am thankful that I was working and my elders in family (or the in-laws, for that matter) never said "ghar ki bahu kaam pe hi jayegi" [daughter in law can't go to work]
Thankful for Freedom to be a stress-free mom
I am thankful I was not in a state that I had to fear about the sex of my unborn child! If you thought that people fretting over the male child happen only in films and episodes of Savdhaan India, think again. I know people who have kept on trying for a son even after the third girl child. Why is it a problem if you have a girl child? I am the one and only girl child of my parents and pampered way more than anybody else in the family!
Thankful for Freedom to quit work
When I became a mom, it was my decision to quit work and enjoy the precious time with my son. I will not trade his childhood with anything (even after him driving me crazy most of the times). I have faced questions from a lot of places – WHY? Now your career will go for a toss. I am thankful to my husband for giving me this freedom – for quiting the day job and starting up on my own work! I can quit my job, enjoy time with my son, do what I like the most and be my own boss and most importantly pay my bills!
Are you still thinking – "I want a better life", "I am not happy with the way my life is going", "I can't have the iPhone 8 on pre-order" my friend first realize what you have and be thankful for it. Be thankful for freedom that you have in your life which you have not given a thought about.
#ThankfulThursdays Week 35 Prompt
Are you feeling thankful for freedom? Share with us on #ThankfulThursday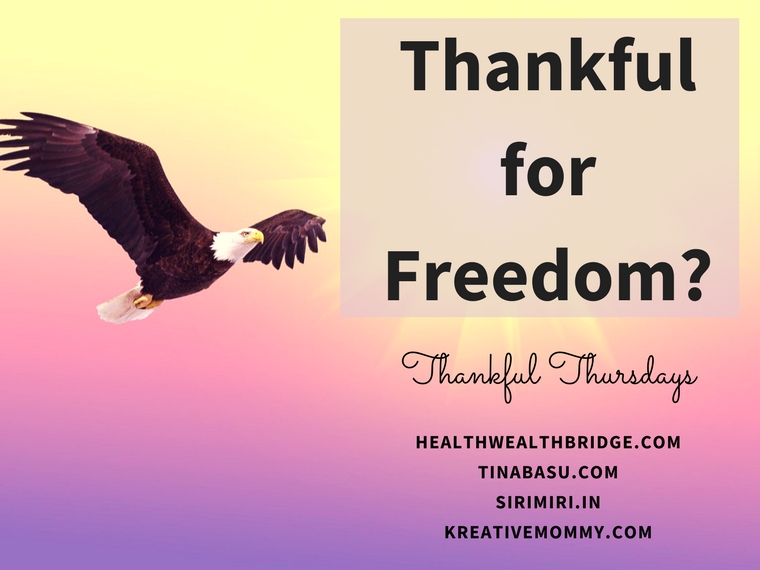 How to Participate in #ThankfulThursdays?
Follow @twinklingtina  & @misra_amrita on Twitter
Prompts will be announced every Wed 20:00 hrs IST
Read, comment, share on host and co-hosts posts and at least two more posts linked in the party Pro Tip – Networking and commenting is good for your blog's health and ranks.
Use #ThankfulThursday in your post and share in social media using the same hashtag.
Every week we will have one featured blogger who is the best reflection of this community spirit
 Add your posts in the linky below