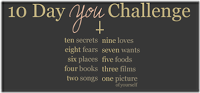 This is again one of my favourite. I think it's very difficult for me to select only five items because there are so many. I think I am going to chose cuisine or the food that I miss the most and long for.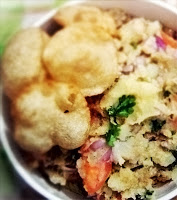 1.
STREET FOOD – Anywhere you go on earth, street foods are always tastier and are available with unmatched variety. And I am absolutely crazy for street food. I miss all the lip smacking street foods of Kolkata here. All the spicy egg roll, chicken roll, 'phuchka', 'pani puri', 'ghugni',' alu kabli',' alur dom', chats,' jhal muri',' bhelpuri'…. And the list goes on. These foods were part of my growing up years. My dad used to be very angry over these and said they were dirty, un healthy blah blah blah…. But I am the ultimate 'phuchka' fan and used to pull mom or friends for 'Phuchka' almost every alternate evening.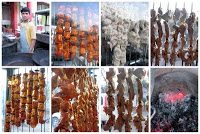 Well don't think I was/am as fat as phuchka… there was enormous amount of dance to keep me fit n fine
J
. But now that I don't have that regime, I will be scared to have street food everyday but I don't think I can manage with the craving much. I want to also plan a food trip to Delhi.. Old Delhi .. I have heard it's the ultimate place to enjoy street food… I would love to visit Parathe Wali Gali, Chandi Chowk etc etc… Other than these I have been watching Food Safari in TLC all this while, top destinations I need to visit for street food are Marakesh, Mexico, Ho Chi Minh city, If I can ever then Lahore for its kababs. I am already drooling.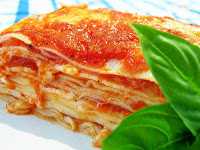 My favourite
2.
Italian Cuisine – after street food if there is anything I love to eat and cook (obviously after deserts) it is Italian food – and it's not the pizzas or pastas I am talking about. There is so much more than pizza & pasta in Italian cuisine. I know so many people who know only about pizzas with tomato sauce with different toppings and pasta in either white sauce or tomato sauce. That's such an insult to the cuisine.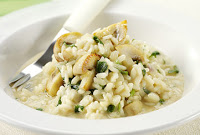 My favourite item is a beef/lamb lasagna,
I can never resist that, I woudn't mind an overdose of good lasagna. Apart from it I love Egg drop soup, Risotto, Ravioli, Cannelloni, Pot Roast… the list can go on and on. I specifically like the use of different cheese.. I wish all those were available here so that I could attempt making a Milanese roast or a Scicilian baked fish…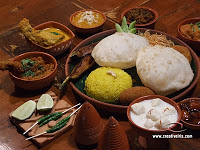 3.
Indian Food – I am very proud of our Indian cuisine, which I think is the most diverse cuisine. Every region has its own flavor, its own ingredients and its own sweets
J
. I particularly love Biriyani – Bengali & Lucknowi style. Others I find very spicy. There can b no comparison with a Bengali 'alu posto', 'alur dom', 'cholar dal' 'luchi', 'kosha mangsho', 'chingri mach', 'illish mach', 'chittol mach', 'bhetki fry'…. This list is longer
J
.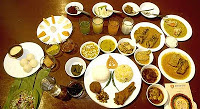 The Elaborate Bong spread looks
scary to finish
Well my next sentence will surprise a lot of Bengalis. I am not very fond of Bengali fish! I eat very limited amount of fish. But the Bengali cuisine is a master piece. Apart from Bengali food, I enjoy all sorts of Punjabi parathas, chole, rajma, kadhi, gujju dal, desi chicken/mutton. I am not very fond of South Indian food but I must mention I really liked idiyappam and veg stew, Spicy mutton/beef curry when I had visited Kerala.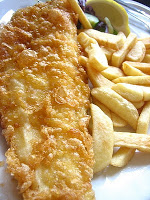 The trick to make great FnC is
add beer in the flour!
4.
Continental – This is a tricky cuisine. Many people have an idea that continental cuisine is only Italian food and English food. But in fact it's the food style of whole of Europe.
So it includes Romanian, Greek, Hungarian, Russian, German, French, Danish, Spanish, British, Irish, Maltese and so many. There are some cuisines in this which are famous in its self like French, British, Greek Spanish & Italian.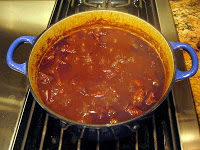 The yummy Goulash
But everything else collectively is continental.
Well my favourite from this incredibly big cuisine are – All Itallian Foods, Greek salads, goulash, tapas, a la Kiev, meat filled crepes, pan cakes, chicken/turkey roast… FISH & CHIPS…
let me not make this a long food item list.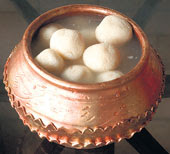 Every Bengali's Love
5.
DESERTS – This one itself is enormous and super favorite. I like anything and everything sweet. From Bengali rosogolla, pantua to gelato I think I love everything. I just don't like sandesh much, I find it less sweet! But I am huge fan of ice cream, dark chocolate cakes, mouse, pie, CHEESE CAKE, PAYESH…. This can be the longest list in fact.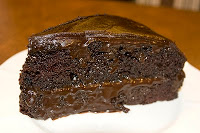 So Sinful
After writing so much on food I am feeling hungry… and I am also drooling for some sweets. I need to take along some sweets along with me on my way back home!