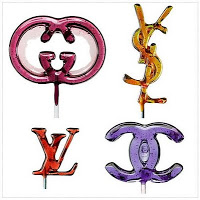 I am reading a lot these days… reading books and sooooo many blogs…. At times I feel tired of working working working and some more working… it's always better to take a break between work to have a fresh mind. I call it a creative break to keep away the creative mind's block J.
While on such a surfing spree I came across a cute and funny Tag post on fashion and brands here. So I thought I'll tag myself
J
. I think tag posts are lot of fun. 
Coming to fashion, while in college I was quite fashion savvy when it came to bags, watches and shoes. I still am and have a huuuuuge fetish on shoes and bags. Indro had almost frozen in awe/shock/disbelief when I declared I needed a lot of storage space for my 57 pairs of shoes.
J
Yes I do posses them and now I have stopped counting them:D. And I am equally crazy on collecting bags of all shapes. It's good to splurge at times. My friends always pulled my leg whenever I came back from a shopping trip. But the retail therapy is good at times to change mood. 😀 It so works for me. This just reminded me there are so many things I can write on such shopping trips – some other post some other time may be.
J
So here goes the tag – if you like it then tag-along. I have modified the list a bit and have changed/added some stuffs .
The Tag is on How many of these fashion items do you have? A list of must-have fashion items for men and women which some website has complied!
(1) Copy the list on your blog. (2) Bold those items that you have, italicize the ones you don't fit into anymore!!!
(3) If you have an alternate or BETTER brand, write it. (4) Tag your friends to see how they're going. Tag me as well so I can see your responses !
[rules are also copied from JB]
Little black dress

 

 – Yep I do have 2 of them, one of which had floored Indro when I wore it on our second date on Vday

J
Black flats 

– I so love them

Gold hoop earrings

  – I so hate wearing gold

Mac waterproof mascara 

A black clutch 

– I love my bags

Sling bag

  – yep I do

Gucci /Hermes-Berkin/Chanel/Prada Bag  – Sadly have 2 D&Gs only

L

Light-colored cotton saree/

A vintage summer dress 

Summer scarf 

Bright-colored umbrella

– Currently using a bright green one

A red/purple/blue handbag 

–

J

Over-sized t-shirt 

– Many

Pencil skirt

  –

L

I don't fit into it [howling]

Black crepe/georgette saree

 

Louboutin shoes/high heels –

L

Want a Jimmy Choo

Le Smoking Jacket/Suit By YSL  – I only have perfumes by YSL
Trench coat 

Crisp white cotton button-down blouse/shirt

 

Solid wash jeans

 

Leather jacket 

Pair of black pumps 

Knee-length boots 

Silver earrings/baalis/hoops

 

Leather / satin/ kid gloves 

Sexy black/red stilettos

 

Turquoise stone bangles 

Ipod 

Platform shoes 

Sexy swimsuit 

Toe ring 

Tattoo 

– My only tattoo experience till date are the ones that you used to get with Boomer when I was in school

Black tank-top

 

Hot pants 

Kajal/kohl 

Banarasee/KanjivaramSaree

Or an ethnic dress purchased when travelling 

Beach sarong 
      37.

  
Oversized  sunglasses 
      38.

 
White salwar kameez
/ white pencil pants 
      39.

  
An evening gown
/ Chic racing wear
      40.

   
Classic leather belt
      41.

   
Lingerie By Victoria's Secret  –
L
      42.

   
Summer hat
OR a gorgeous racing hat
      43.

   
Chanel
/Hugo Boss/Dior/YSL Perfume –
J
All thanks to Indro
      45.

   
Iphone  – I wish I had one
      46.

   
Kundan choker
/ studded choker 
      49.

   
Halterneck dress/halter top 
      51.

   
Silver /junk anklet/bracelet/armlet
      52.

   
Clinique set – and also by SHESEIDO
      53.

    
Churidaar-kameez Or skinny jeans
      54.

    
Platinum band/Ring –
My precious engagement ring
So I think I have a lot of these, so I am not a disaster.
That's great in fact. But the saddest part, for most of these I have to wait till a weekend or a vacation! But again a question arose in my mind, is following brands fashion??