A baby's brain develops rapidly in the first 12 months. DHA, natural vitamin E helps in infant cognition through breastfeeding. Learn more about #FeedIQ and why you should breastfeed.
Pregnancy and motherhood is a special time in a woman's life. A healthy pregnancy is largely dependent on good nutrition, moderate exercise and good rest. With the birth of your baby a new mother is born. As a mother all you want is the best for your baby. The single most important job of a new mom is facilitating nutrition to the baby through BREASTFEEDING. Breast milk has the super vitamin that your baby's brain needs – DHA & Natural Vitamin E. It is through breastfeeding that you facilitate #FeedIQ.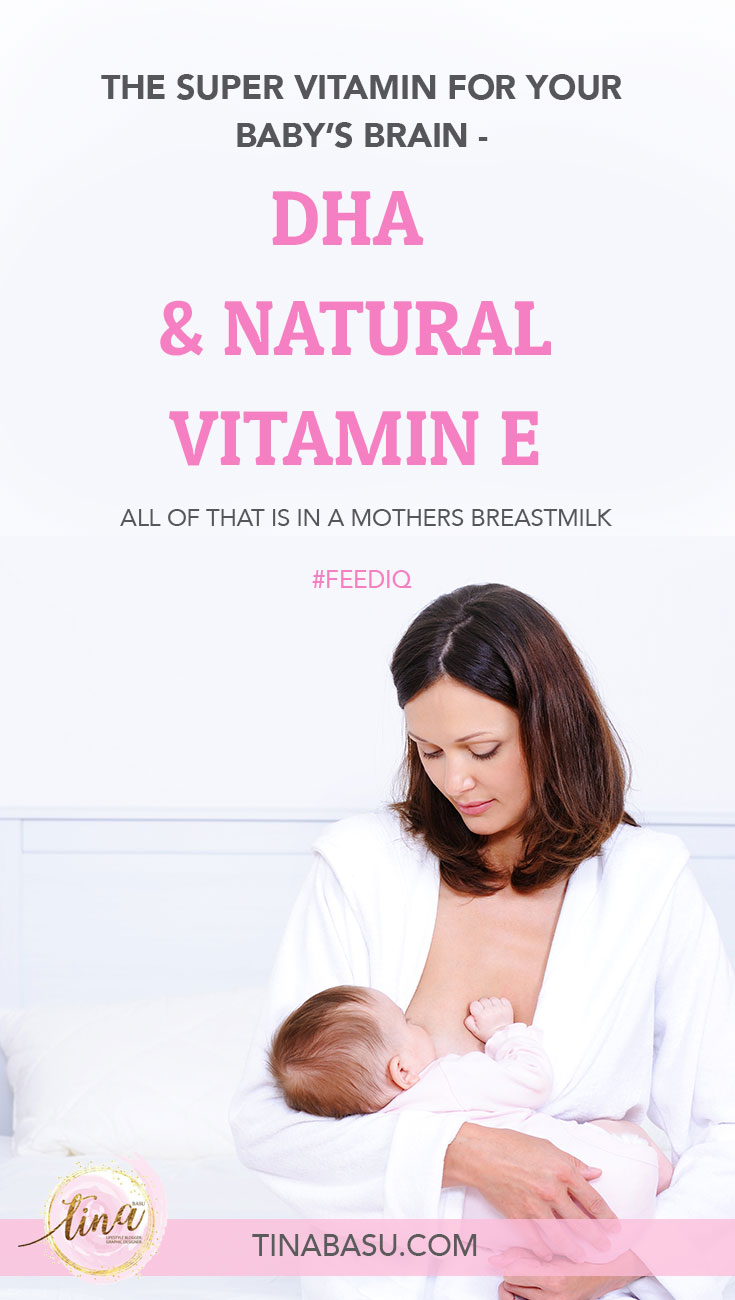 Nutrition for first six months for Baby's Brain Development
Breastfeeding is an incomparable way to provide nutrition for an infant. WHO recommends exclusive breastfeeding for the first six months in an infant's life for baby's brain development and overall growth. An infant doesn't even require water in the first six months because breast milk has enough water and all the necessary nutrients. In another words breastmilk is the gold standard of food and nutrition for your baby.
What are the key nutrients in breast milk?
Breast milk is the perfect combination of proteins, fats, vitamins and carbohydrates that is enough for an infant.
Proteins – Breast milk contains two kinds of protein – whey and casein – which have great infection protection properties.
Good Fats – Long chained fatty acids present in breast milk helps in the development of eyes, brain and the nervous system.
Vitamins – Breast milk contains fat soluble vitamins like Vitamins A, D, E and K.
Carbohydrates – Lactose is the primary carbohydrate in breast milk. It not only provides energy but reduces the unhealthy bacteria in stomach.
Super Vitamin DHA & Natural Vitamin E in Breastmilk
Breastmilk is also rich in DHA and Natural Vitamin E that are essential nutrients for a infant's brain development.
Some key factors that contribute towards baby's brain development are DHA, AA, choline, taurine and lutein. Docosahexaenoic acid (DHA), a long-chain polyunsaturated fatty acid is one of the most important brain nutrients. It is also directly influenced by the amount of DHA in a mother's diet. However, baby's DHA is prone to oxidation and needs protection against damage.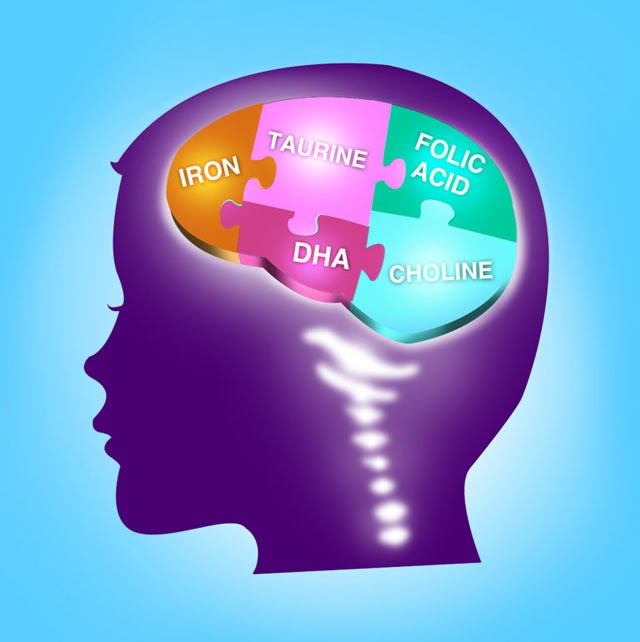 Natural Vitamin E, on the hand, is a powerful anti-oxidant that prevents DHA from any oxidative damage.  DHA and Natural Vitamin E in combination together are superfoods for a baby's brain development and infant cognition. Natural Vitamin E is found in brain regions that support visual, memory and language development.
How to #FeedIQ for Baby's Brain Development
A mother who is also the primary caregiver feeds IQ in her child through – good nutrition, emotional bonding, interaction since infancy. When I was a new mom, I was staying with my mom for a few months and she kept no stones unturned to make me eat nutritious food. Good nutritious food is as important for a pregnant mom as is for a lactating mother.  I would be eating almonds, spinach, broccoli, fish every day.
Alpha-tocopherol, or Natural Vitamin E is found highest in lactating mothers in the first few months. It's levels decreases with the progress of lactation. Thus it is important for the mother to have a nutritious balanced diet that helps to supply all the important nutrients that a baby needs – specially DHA and Natural Vitamin E.
Foods that are Rich in Natural Vitamin E
Taking vitamin E supplements doesn't quite help in getting Natural Vitamin E in your system. Mothers should include foods rich in Natural Vitamin E in their diet.
Vegetable oils: Sunflower oil, safflower oil, corn oil
Leafy greens: Spinach, kailan, kangkung, broccoli.
Seafood: Salmon, trout, shrimps.
Nuts and seeds: Almonds, sunflower seeds and peanuts.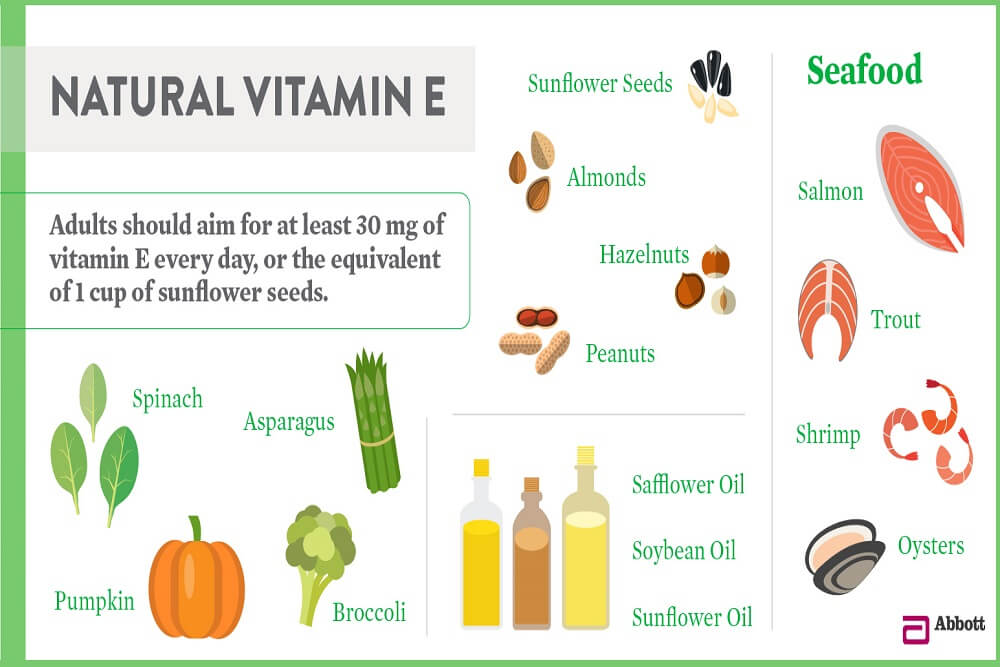 Lactating mothers need nutrient rich diets for better breastfeeding experience. Dietary supplements like SimMomIQ+ by Abbot helps in meeting all the requirements of key nutrients during pregnancy & Lactation. SimMomIQ+ is enriched with brain nutrients like DHA, Choline, Zinc, Iodine, Folic Acids.
How to read the labels for Natural Vitamin E?
When you are buying packaged food as dietary supplement read the labels for the components. I like to be an informed consumer and always read the labels. NATURAL Vitamin E is listed as 'RRR-alpha-tocopherol' or 'd-alpha-tocopherol' on food packaging and labels while synthetic vitamin E are mentioned as 'all-rac-a-tocopheral'.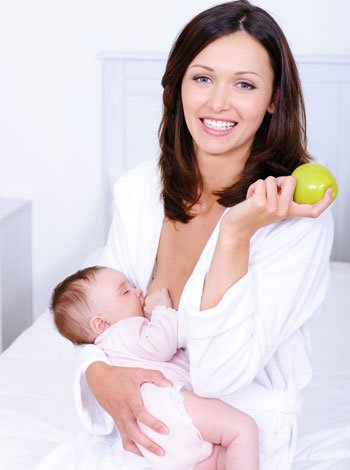 Is breastfeeding easy? Breastfeeding is natural but ask me, it is not very easy for everyone. It requires, will power, practise and patience. You can get lower supply, cracked nipples, sore breasts. It is good to follow some self care tips for breastfeeding moms to make the journey easier.
As a mother, we want our babies to grow and develop as best as possible. It is important to note; breastmilk is finally derived from the food that the mother intakes. Any shortfall in nutrition of the mother will result in lack of nutrients for the baby. A good nutrient rich diet with DHA, Natural Vitamin E will help in proper growth of baby's brain. Happy breastfeeding moms.