If you are following me on Twitter or FB then you will know how incredibly mad I am for this man. And lately I'm in that zone where I want Hrithik almost every where. I get into these modes often and then get back to youtubing some previous interviews or some random videos. I often get an urge to write a post on him, I have already written quite a few and am sure I'll write even more. Now this is not a recent crush/ following/ being a fan or anything it's a 14 year long nice feeling of watching an actor grow and feeling nice about the person.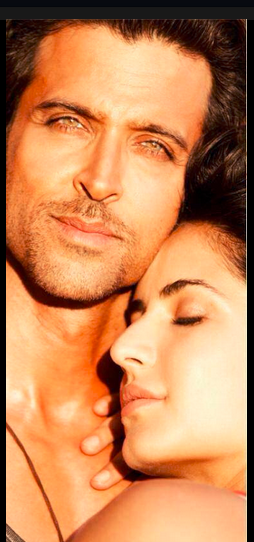 Now why I'm writing this post is not to tell you how I feel crazy sometimes or how good he is (that's what I think) or like another fan post. It's to do with how crossed I am with Fox Studios. Like you know BangBang, his next movie, is due for release on 2nd October which is exactly 1 month from now and I am finding this studio house is not promoting their film at all… I don't have a problem with the promotion or the business part, I am watching it anyways. But what do we have so far just a teaser and 1 song that's it!!!! Tomorrow they are going to release the second song though. But isn't it too less and too slow?? For me it is. Fox Studio, looks like, is too busy with Finding Fanny and some other film but please our Duggu darling is part of that one-film-a-year club. A HR fan gets to see him on screen so less anyways and just before the launch of this movie there is nothing, almost.
I heard PVR had started Pre-Booking for BangBang and I thought I'll pick up my first day first show ticket, 2nd Oct being a holiday. But their site gives me option only for 4th and 5th Oct – which I have no idea why? But I'm pretty sure I'll watch it on 2nd itself, even if it means I have to go to a stand alone theater. Actually I have not been in a stand alone theater since 2006!!! I dont even know if any stand alone theater in Bangalore screens any Hindi movie, but let's see.
Now this is my current favorite song and no prizes for guessing. It's on loop in my car, on my iphone and also in the laptop (for those times when you want to shut yourself at work and want to concentrate). Weird right? But I do it quite a lot, if I have to concentrate on some work I always keep some music/song in the background playing to stream line my thoughts. I am embedding the video of it here for you to listen, if you already have not caught it on Youtube.
Last evening when i was driving back home, I was sitting at this traffic signal in a place called Koramangala. When ever this song is playing I get into my dancing mood and I was dancing in my seat. Head bobbing, and totally grooving for about 130 seconds (that's how long the signal makes us wait each time). It's only after sometime that I realized people were staring at me thinking I was some mad person who was enjoying sitting at the red signal!!! Now tell me what do I do if the songs so cool and the actor in it is Hrithik looking and dancing at his best! I say to hell with you onlookers, I'll enjoy anyway.
Are you one of those who's crazy about someone?