Skills and abilities become a part of who you are. Skills define you. The world is changing every day and your skills help you to face the challenge. It is important you pick up skills early in life so that you are prepared for the challenges life is going to throw at you, invariably. Skills shape up your life, don't they? So what are your skills to be thankful for?
When I think about skills I can either find I have loads of life skills *brags a little* or I simply loathe at not having so many skills! I think I suck at taking photos and I seriously need to take better photos for my food blog Twinkling Tina Cooks. I have bettered from my earlier days but once I open Pinterest I feel like my life is doomed! Yes seriously! I am horrible at doing household chores – I hate doing mundane work – I secretly wish to have a robot to do these unproductive works. I also fail to be diplomatic – most of the times. I can be blunt or I can just shut up and not talk – that happens rarely though! But being diplomatic isn't what I have picked up so far. But do I really not possess skills I am thankful for? Well let's see the which are my top 3 skills to be Thankful for.
Related Story – 5 LIFE SKILLS I LEARNT LIVING AWAY FROM FAMILY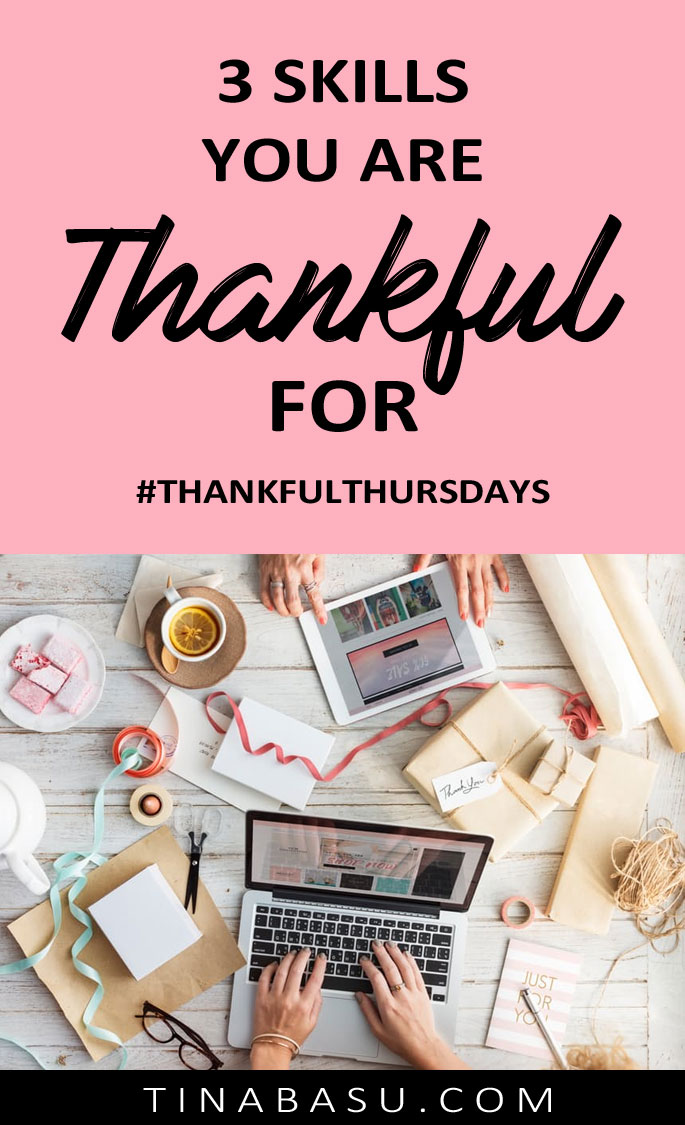 skills to be thankful for #1 – Design, aesthetics and all things pretty
I was an inquisitive child and spent a lot of time drawing and painting – almost everywhere – walls, sofa upholstery, curtains, bed sheets you name it, I have done it. I have also ruined bed sheets by doing origami stuff with scissors! I am very fond of things that look cute, beautiful, and aesthetic. I have done a full-fledged diploma course in graphic design and multimedia along with my graduation and post-graduation because I simply loved the idea. I have quit my job last year to be with my son and I am anything but SAHM. I am not meant for being a home-maker – I'll be a terrible one if I had to be just a homemaker. I am doing graphic designing and branding for my clients and that's how my business is shaping up. It's my source of income apart from my blogs and I am happy that I am still independent financially! I have loads of plans with my design career but that will require my son to start school so that I can devote adequate time.
skills to be thankful for #2 –Being the Experimental Chef
This is a new skill that I have developed since 2007 – the year I started staying away from family. Life teaches you everything. I wasn't bad at it the first few times I tried. I still remember asking my friends at PG to taste the curries I made once and when they gave a go ahead I started doing more experimental stuff. After I got married and had my own kitchen and learnt my husband is an equally big foodie, there was no stepping back. From the quintessential Bengali Daab Chingi to the French macaroons I have done it all and you can find all the experiments on my food blog.
skills to be thankful for #3 – Writing
This might sound obvious, since I am a blogger – writing has always been an interest. I have always loved writing – apart from the history papers at school, of course! Did I tell you guys I have interned at The Indian Express as a journalist and have several articles published in the paper with my by line? I am not sure if I mentioned it. Now, not to brag but the editor did ask me to join them right away but I had not finished my post-graduation yet. The life of a journalist or any media person may seem all glamorous, but it's not all bed of roses – they work crazy hours. Now my skill is not just being sort of good at writing. I can write on just about anything that interests me.
Now these three skills are enough to be thankful for because they make me who I am! What about you? What are your skills to be thankful for? Tell us and link up with us.
#ThankfulThursdays Week 28 Prompt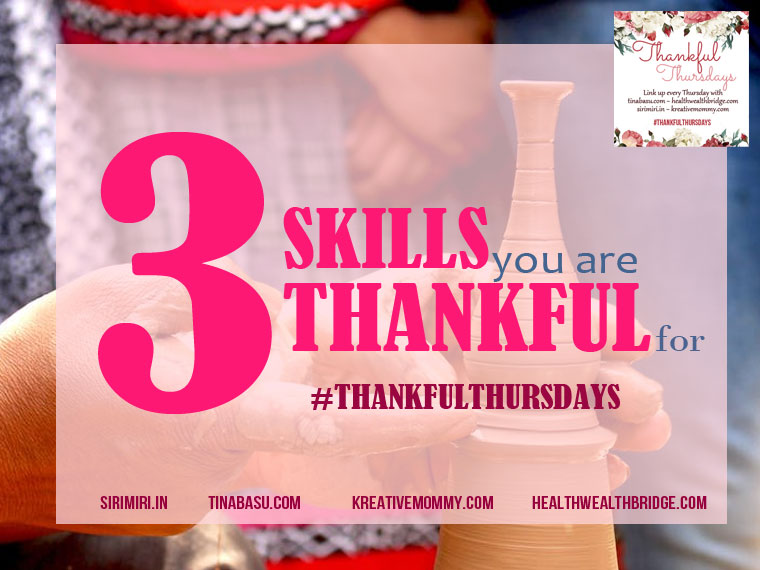 How to Participate in #ThankfulThursdays?
Follow @twinklingtina  @misra_amrita @Mayuri6 and @Deepagandhi1 on Twitter
Prompts will be announced every Wed 20:00 hrs IST
Read, comment, share on host and co-hosts posts and at least two more posts linked in the party Pro Tip – Networking and commenting is good for your blog's health and ranks.
Use #ThankfulThursdays in your post and share in social media using the same hashtag.
Every week we will have one featured blogger who is the best reflection of this community spirit