I just realized it is like 20 days that I have not blogged!!! I was getting too worked up blogging everyday for 3 months and now I am restless that I have not blogged for so long. Fingers are itching to type away. I wanted to do so many posts in the last week but somehow my laziness gets the better of me! But today there will be a marathon of posts.
Marathon reminds me of the carnage one man did yesterday in Kolkata. I was in a day-long meeting yesterday and wasn't checking tweets, news or anything. Only in the evening I realized I was not part of a history that was created in Eden Gardens by Rohit Sharma. I mean what did he eat yesterday? 264???? Are you like kidding me? It freaked me out when I saw my twitter timeline. Now I have reduced watching cricket if not already stopped ever since our god Sachin Tendulkar retired. But last night I went back home, saw the highlights, and even the after match analysis by Gautam Bhimani and was so elated with the fact that someone did this actually!!!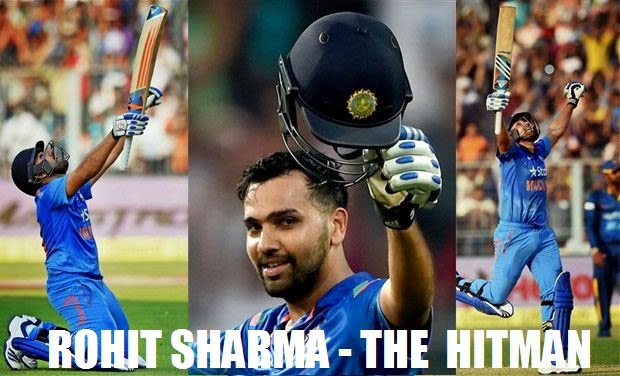 Yeah really – He was the Hitman yesterday
I still don't believe it 264!!! In an ODI!!!! This streak of 200 in ODI was first introduced by our very own Master Blaster and then it has been like a habit of Indian batsmen to score 200+ in ODI. Sehwag did it, Rohit himself did it – but this one is like the Everest!! 33 boundaries!! And I am so happy that all 4 double centuries in ODI are by Indians!! That patriotic feel you get after a cricket match!
There are hilarious memes and jokes doing he rounds across the internet on this carnage and I was reading them when I thought of sharing some trivia and jokes here.
Did you this 200s by Indian batsmen is the mother of coincident. Check this out.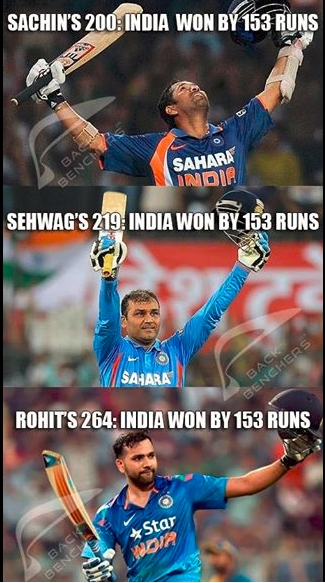 Credit : facebook.com/thebackbenchersofficial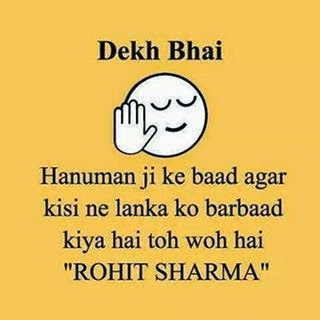 By Ankit Siyal Jain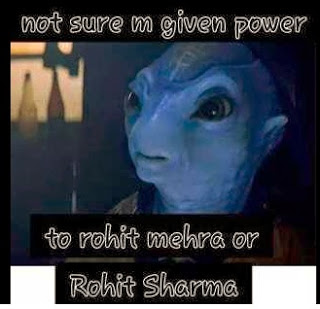 by Arjun T Mohan


Sometimes its real fun to go through the memes.
Okay now a puzzle. I was given this puzzle last evening and i answered correctly. Now it's your turn to give me the answer.
How many runs can a single batsman make in an ODI (50 overs / 300 balls) ??? No extra runs, no wide, no no balls, no over throws,
Well if its Rohit Sharma he can achieve it actually.