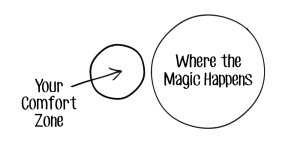 Image Source:
You know how Indian families are – close knit and overly protective. They stay together and are together in thick and thin. And being a single daughter means being in the protection a little too much. While growing up I have enjoyed a lot of luxuries of having dropped to school in our car to being picked up from the school bus stop (whenever I took a school bus). I didn't have to take a local bus or transport ever till I reached college and insisted I travel by metro like my friends. I am sure my parents only wanted good for me and felt I should be comfortable and safe.
Once I graduated from college, I decided I need to move out of my home and be on my own. That is not what most people do in India. But I feel it is quite important to learn to be on your own and take your own responsibility. Now convincing my parents to just let me out and be on my own would have been simply stupid since it would have got rejected even before I spoke a single world.
The best I could do is get a chance in a good college or university (which were better than those in my city) in another city or abroad. Because I always knew my parents had very high regards for education. Since my dad is an alumni of The Royal College of Surgeons of Edinburgh, convincing him of letting me go abroad wouldn't have been a problem. So all I did in my 3rd year of graduation was researching on universities, colleges, courses, student work permits, and also checking out universities in other cities in India.
After college, I went and met student counselors of some of these British universities and process of ILETS and TOEFEL – and all this without the knowledge of my parents. But I knew I needed a backup plan too – being in India at least. And just as I had expected when my mom got to know about all these plans she had a lot of problem why I wanted to go away to Leeds (that's the one I had chosen!). She couldn't fathom I, their only daughter will go away and stay miles apart! She also had assumed I'll get into a relationship with some white guy or even worse some Pakistani!!
But thankfully my plan B worked. I had gone and given admission tests and interviews in universities in Delhi and Bangalore and got through all the three that I had applied for. So I chose to take up media studies in Bangalore. My mother was relieved with only one thing – you can reach Bangalore in 2 and half hours and not some 16 hours!! So when I went with the proposal of shifting to Bangalore they agreed without much trouble.
There began my journey of being responsible. It was a baby step to arrive in a new city but it a Big Bold Step in itself – being alone in a new city. I didn't allow my parents to fly down to Bangalore with me so that they could help me settle down. I decided to do that all by myself. And believe me, the years that I spent in the paying guest accommodation are the best formative years of my life. I had no experience of managing anything forget about finances – but there I was managing even my food. And its in those years I discovered a self taught and self styled chef in myself.
This one Bold Decision has made me fiercely independent which is a trait that I like in myself. And I am happy I carried it forward while getting my first job (not from campus placement though, a much better than the ones in campus) and also after my marriage.
Life is beautiful and has a lot to offer, you need to take that step and #StartANewLife.