Change is inevitable – isn't it? Or is Change the only constant? It's kind of an 'in-thing' for our generation to change their stuffs quickly. That's what it is with being impatient. Life span of every commodity has become less today – not because they don't work after a year but we are getting bored of them too fast! You want to upgrade everything – new TV, new fridge, new microwave, new phone, new car and even new furniture – which until recently people preferred to last for long. Now we are impatient with our buying habits to – we don't waste our weekends in buying stuffs now we buy in a few clicks.
When you can change something big enough sitting at home in a few clicks why wouldn't you prefer that? Quikr.comhas become a favorite with Indians for selling off old items and buying something new. And you get pretty nice deals if you have that good eye of a hawk! You don't have a middleman who will either mark up the price or eat up your due price. You can post free ads and contact a seller.
Quikr NXT is the latest and the more enhanced version of their website. They have the new chat feature where you can simple chat with the seller buyer. I think that's a very good feature. Now if I have to upgrade my car through Quikr NXT I think it will be a smooth ride for me. I can do a good amount of research on that perfect car just lounging on my recliner. I can select makes, models and even the kilometers it has run! Almost all makes of cars are available Maruti Suzuki, Ford, Toyota, Fiat, Skoda, Hyundai, Honda – you name it and its there. You could choose between a CNG, Petrol, Diesel, LPG according to your wish and also set your budget.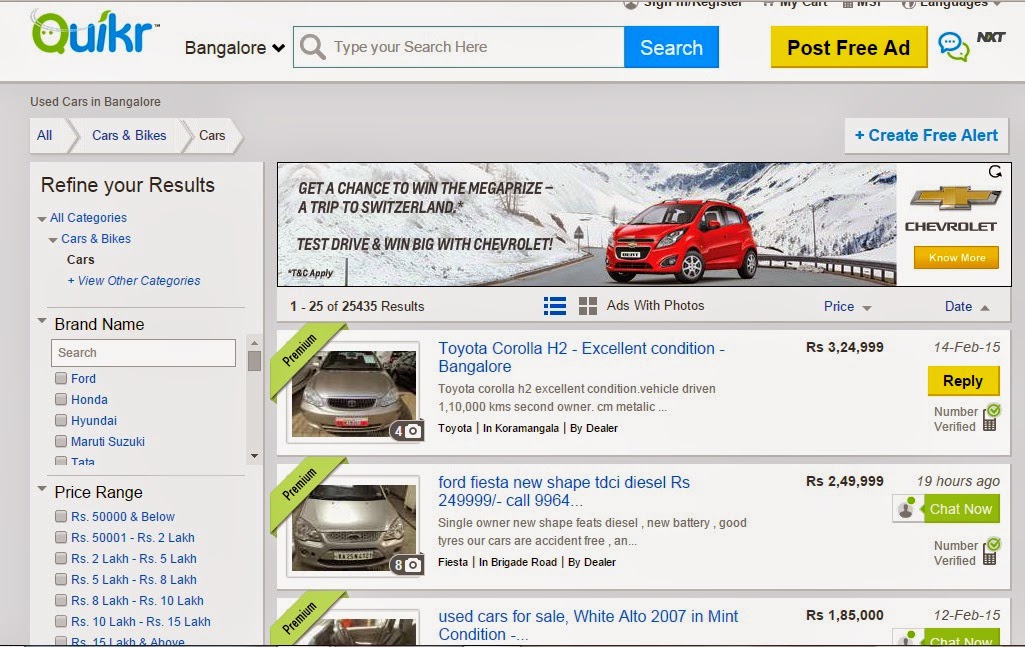 Quikr NXT Car & Bike Search page.
With all these features short listing the car you want to get is easier. I actually am more interested in the manufacturing year and the kilometers it has run more than anything else. If you want to buy a used car these are the two most important things you should look for. Sometimes you get really good deals when you see a car has run only 6000-7000kms and the owner wants to sell – either they are relocating or are upgrading. Most of the ads that I see on Qukir has the running kilometers mentioned. So you could shortlist only the best available.
Once shortlisted you can call/mail or chat with the seller to strike a deal, inspection and payment related discussions. And if all goes well you can have your next car in your garage in a few days time. Isn't that hassle free and quick! So sell quicker and buy quicker!
Visit http://www.quikr.com/ to check your preferred deal


This post is written for Indi Happy Hours in association with Quikr NXT