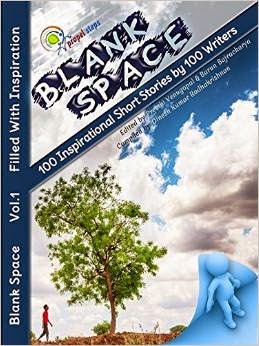 Hello hello… hope you all are doing great on this Wednesday morning. I am doing fine on this bright morning. Well, the reason for my chirpiness is not just the fine bright morning. I have news for you guys. I am finally an author now!!! Yay… My short story was selected and published in an anthology and I finally have my author copies with me in hand. Yeah it's my first publication so I am super duper excited! So if I am sounding too excited, excuse please. 🙂
And here's the first look of my book for you guys. It's called Blank Space – Filled with Inspiration. It's probably the first anthology published with 100 stories from 100 inspiring authors. A big thanks to

Dinesh Kumar Radhakrishnan

and Propel Steps for compiling all these wonderful stories and co-coordinating with so many authors. Edited by Preethi Venugopal & Barun Bajracharya this definitely is a great collection of inspiring short stories.
And what's more I have my

Good Reads author page

too. 🙂 So you can understand my excitement I guess. Now that I have the copies with me I am reading through the stories and feeling great about all the writers. Some are really worth applauding. I also read some good reviews by readers. It only makes me happy about it.
Blank Space – Filled with Inspiration
is available on

Amazon.in

and

Propel Steps Site

. It's available in a Paperback format as of now. It will be available on
Flip kart
also soon. I'll let you know when it does.
If you guys read and like the book, please be kind to let me know in a comment below,

Tweet

, in my

FB page

or you could mail me twinklingtina-at-gmail-dot-com.
Well there's more in store. There are more stories in the pipeline! I recently took part in a blogging contest – Game of Blogs hosted by

BlogAdda

. You would have read the posts from Team ByLines ( if you are a regular here). And guess what our team ByLines won with our sci-fi thriller! And as a result we are getting published by Lead Start publishing. Isn't that great news! You can read our Game of Blog journey in our

Twitter Chat with BlogAdda

.
There's more, I have been selected in another anthology too. And this time it will be a love story. So 2015 is packed with my literary work! I love it already. Wish me luck people.
Will look forward to listening from you guys. Love.
P.S. My story in Blank Space is called "Live your Dreams".