The following is an

acrostic poem –

where the first letter of each line spells out a word (downwards). I had written this for a contest in Fanstory but latter found out that contest is for paid members :(. Being an ardent follower of my hero I couldn't stop myself from posting it here in my blog.
**********************************************************
Shining like the brightest star in the galaxy
Are you human, a mortal soul, or an incarnation of a deity?
Climbing up the highest peaks of records seems a cakewalk for you
Helping the team to come out of disasters too.
India is proud to produce a son like you
Never has anyone seen a master of stroke player like you.
Tormenting the bowlers is your passion
Enchanting is the word for your masterpiece action.
No one can ever touch your grandeur
Don't know how you still maintain your run's hunger!
Ultimate Cricket Hero is what I call you
Lil Master, I am lucky to born in the same time to watch you.
Kolkata to Canada you are shining bright,
Admirations, adulations and praises are all I can write.
Reminding everyone, my brother Sachin will always be my pride.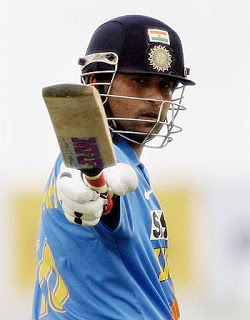 Image Source: Google Images