When I landed in Bangalore back in 2007 the one thing I had loved about the city were light silver clouds hiding soft sun shine between them, cheerful green trees swinging in cool breeze and regular showers at 4 in the evening when I used to be back from college. This very weather had forced me to stay back and not return to the hot and sultry Kolkata (though I love my city quite a lot).
This beautiful weather of Bangalore greeted me with a cool hug when I woke up in the morning today. It almost felt like meeting someone after years. I have missed you badly 'My kinda Bangalore'. Pollution, dirt, heat, water logging, power cut, mosquitoes had hidden you for such a long time, but yes you are back today and you are the best part of the city. You hold me back under the quilt for a little long and I am not complaining – because I absolutely love it to cuddle up under my soft quilt early in the morning. 🙂 [It reminded me of all those days when I hid under the quilt and bunked the first class in college and felt it blissful:p. But sadly I can't do it now at work :(].
While sipping his morning tea Indro was telling me this is the perfect Bangalore weather. [He knows more about the city than me as he is here from 2005]. I think he is also in love with the city for the same reason as I am! I was even cheerful while coming to work – I didn't need to take out my umbrella or shades (otherwise it's almost impossible to walk under the strong sun in the morning – forget about after noon).
I am sure my parents were very happy with the news of this weather change since they will be visiting us tomorrow and can escape the scorchy Kolkata which is never in a good shape at this time of the year.
Thank you 'My Bangalore' for being so nice and for coming back. Thanks to all rain gods, wind gods and cloud gods (if there is any) for thinking about us and giving the Sun god some rest! 🙂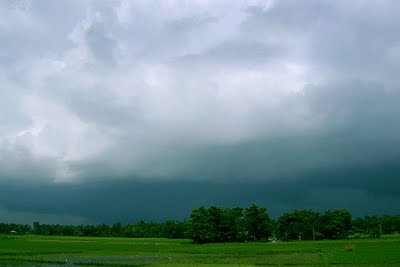 Weather was very similar to this… I don't know why I din't click.