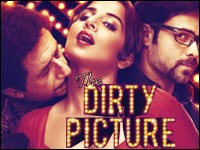 This is the first time I am reviewing a movie in my blog. As I had mentioned earlier I am very much going Ooh La La ever since I have heard the spicy retro song so I thought lets enjoy it in the theater for a change. So here's all that I can gather… Warning: I have studied Film Studies in additional paper during my graduation days, and I was quite good at it, so I can be critical and technical at few places!
J
If you are in India, I bet you cannot have missed the promotions of the movie already, Ekta Kapoor has made sure liek a good producer that she promotes her film well. Vidya Balan alone has been the face (soul & body) of the movie and has not failed to make appearances in almost all popular TV shows. From the promotions and trailers if you have made an idea that this film is all about sex, gyrating bodies or like any other Emran Hashmi movie then hold on, think otherwise, it is not. Ekta Kapoor and Milan Luthria has proved with The Dirty Picture that you can make a movie with sensuality, entertainment and good content.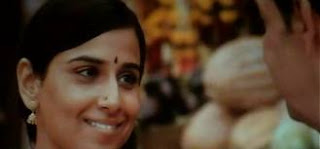 Reshma (Vidya Balan), the unapologetic small town girl runs away from her home the night before her marriage with only one dream in her eyes – to be a popular actress in Tollywood (Tamil Film Industry). She tries to grab the opportunity and is ready to do anything to make it big, even if that is at the cost of showing off her voluptuous figure, her curves or pleasing the Superstar 'One Take' Suryakanth (Naseerudin Shah). She is reborn as Silk, the impenitent, unapologetic sultry siren who oozes oomph on the screen from the word go and the audiences love her for it. Abraham (Emran Hashmi) with his art film director's mind considers Silk as the 'filth' in the industry and find these films distasteful. The film critics and women groups, however, shun Silk because of her atrocious attitude where as the chauvinist Surya considers her a dirty secret which is good as long as it's closed behind the doors. Ramakanth (Tusshar Kapoor) is in love with Silk for her on-the-face attitude but is embarrassed to introduce her to his family. She zoomed into stardom and became the talk of the town, but the downfall was also quick after having two heartbreaks and discovering the hypocrites of the society. How will she survive in this cruel bad chauvinist world?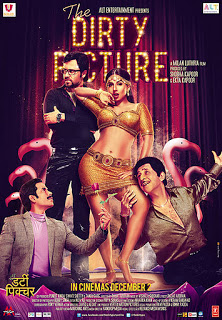 I'll not give away the entire story. I think it's a good watch and a good story.
Reshma comes to the industry with a vengeance to create a niche for herself and makes it clear from the beginning that she wants to be an actress and not a background dancer. She plays her cards with the advantage of her curves and sensuality. She storms into the minds of the movie goers with her gyrating body and oomph on screen. But these very people find it embarrassing to accept her in the society in the broad day light. This double standard of the society makes her vulnerable. Ultimately it's the fight of a woman with the hypocrite society that unfolds in the story.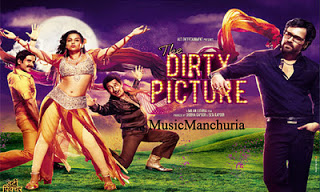 Miss Ekta Kapoor, after having made major television soaps for a decade ( I am not and was never fond of any), and some films have finally made a film which will be remembered for long, not only for being a bold film, but for the great content and a powerful story. I am sure many feminists will be of the similar idea after watching the film. It's the story of a woman and how she is treated in the society. Kudos to director Milan Luthria for this feat and stitching a wonderful story together. All throughout the movie you can never miss two things, Vidya and the dialogues. Rajat Arora I don't know how you managed to come up with all these one liners, but they are fab. Yes they are over the top, loud and bold, but this is how the story is, this is the reality of the society and that's the face of Tollywood, going overboard. There are so many of them that it's hard for me to keep a track of the one liners. One that I cannot forget is when Silk says to Ramakanth what she told to the winning horse just before the race "
Tu pehla hai jo neeche dekh raha hai, upper dekh, maza le aur jeet k aa"
, [I think this is how it ends, if I have missed any words, my apologies, but this is what the intent was of the dialogue]. There are countless one liners which I am sure will be used more often by people after a week. And yes he is also the lyricist of '
Ohh la la.
'
This film creates the aura of the 80's in a very nice way, Pony Verma recreates the retro Himmatwala looking "Ooh la la" song with flowing oranges and wet sarees to dancing in the rain amidst huge sculptures. The properties used in the film to give the 80's feel are also perfect, the old Maruti 800s and Fiats, huge sunglasses and retro costumes do perfect justice to the era.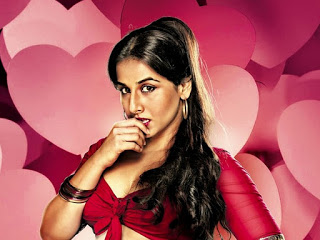 With a power packed performance Miss Balan has declared she is versatile to the core. From the petite Parinita, to the troubled Avni, or her characters in Paa, Ishqiya, No One Killed Jessica, she has already shown her acting prowess. With her towering performance from the naïve small town girl to the ultimate sex symbol she has held the movie together till the end. In spite of the risk of looking vulgar in portraying such a role she has managed to look sensual and on the face. It is true Tamil Film Industry like their women with voluptuous figures and curves and that is exactly what Vidya shows for her character. It takes a lot of guts for a leading lady to get into the skin of the character and add on those pounds specially in the season of size zero.
Naseeruddin Shah is brilliant as always. He portrays the big bad guy with his natural acting. Yes, his character is a caricature, and his antics of Cowboy Surya makes you laugh and you also feel like hating him when he shows his dirty side. For a change Emran Hashmi has done a good job! I have never liked him apart from Kalyug. Here he has less screen space in the first half but his role and acting is convincing and for a change he doesn't have the bad boy image. For all those people who are guessing whether he has a kissing scene or not, let me clarify yes it is… How can the serial kisser do a movie without kissing?? Well Tusshar Kapoor I don't have much to say, I don't know how he ended up as being an actor, his only convincing role till date has been in Golmal where (thankfully) he doesn't talk and only make sound. In this movie, however, he has a small role and is bearable. [That's best what I can say about him].
I will not be surprised if Vidya takes away all the awards this year, and frankly I'll not be disappointed. Till date no one has done such a promising, bold and courageous act on screen that I can recall of. One note for all those who are comparing this movie to the likes of Fashion, and other struggle stories, please don't, it's not same. This movie is in true sense "entertainment, entertainment, and entertainment" but with a great content and powerful performance.
To all those whole have seen the movie let me know if you have liked it or you thought otherwise. Leave your comments.