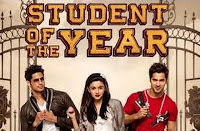 Yesterday I was smitten with the Radha song from this film so I couldn't resist but watched the movie.
And yes when you are watching a Karan Johar movie you need to keep a lot of things in your mind – no questioning the logic or rationale, and not relating anything closer to earth.
Alert: If you can't shut off your mind and its questions then avoid.
Presenting a high school musical in true Karan Johar style. It has K Jo elements from the word go. Generous sprinklings of Kuch Kuch Hota Hai moments and Kabhi Khushi Kabhi Gham feel are something which you cannot miss. Or even some skin show of the boys ala John Abraham in Dostana.
The Story – Set in a picturesque locale of Dehradun St. Teresa's or 'St. Teez' is a posh upmarket residential school (big question if it's a school/college or something else) and the students find themselves in the peer groups of the 'filthy rich Tatas' or the 'bechara gareeb Batas'. Rohan Nanda (Varun Dhawan) & Sahanaya Singhania (Alia Bhatt) pioneers of the spoilt brat group faces the ultra-cool Abhimanyu (Siddhart Malhotra) a free thinking scholarship student who oozes confidence and wants to reach the pinnacle.
'The Competition' of life starts under high drama when the happy & 'gay'Dean Yogendra Vashisht (Rishi Kapoor) announces the annual trophy of Student of the Year. [In our times it was topping the exams that made a pupil student of the year – here however it is all judged by an IQ test, a treasure hunt, a dance competition and some sports events!!!] Who wins the trophy and gets the girl is something that you will have to watch.
As I said earlier if you start questioning logic you will never find the answers. Like a scholarship student (supposedly from a middle class family) roams around in bike and can afford big brands, Rohan – son of THE best business tycoon – moves around in even swankier cars – mind you cars and not a single car – and all this happens in school. Well this school is one of its kind – possible only by Karan Johar I guess – doesn't have much academic activity [because you don't see any scenes inside class room apart from the IQ test and a song], but has sports facilities which can give serious competition to the London Olympics Village. The business tycoon suddenly invites almost all the lead characters of the school for his son's wedding in Thailand. Or even the mother asks Tanya if she is using the push up bras and getting bikini wax done!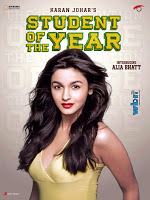 I think I am also starting to search for the missing logic but let's leave that aside. Performance wise you will love the mean Ram Kapoor as Ashok Nanda the business tycoon. Rishi Kapoor looked cute & pink and gave quite a nice performance in a role which you would never think of him doing.
About the three new faces – yes they are fresh, cute and young on screen after long time. Dream debut for all the three.
Alia Bhatt has the innocence on her face and can emote. She couldn't have asked for a better introduction in the film – it has all the spice of Poo's attitude, style and zing of as in Kareena's introduction in K3G.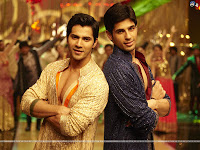 Among the new boys one has the looks and good expressions but its true Siddharth Malhotra needs to take up some dance lessons.
Varun Dhawan on the other hand doesn't have the conventional chocolate boy look but is a fine actor and dances pretty well.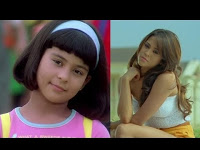 The little girl from Kuch Kuch Hota Hai, Sana Saeed, is the surprise package. She plays the rich and bitchy Tanya Asrani and does a fine job.
If there's something that I am quite impressed with in the film is the fresh new songs. A very good album by Vishal & Shekhar this year. I am still listening to the Radha song even now as I write. Among the other songs that sound cool are the Disco song & Vele.
So in all it's an entertaining movie ala Karan Johar OTT style. For me a time pass movie but definitely better than other hyped movies like Cocktail, Rowdy Rathore etc.
My rating 2.75 out of 5 no actually I can give 3 because of the songs.
Image Source : Google Images