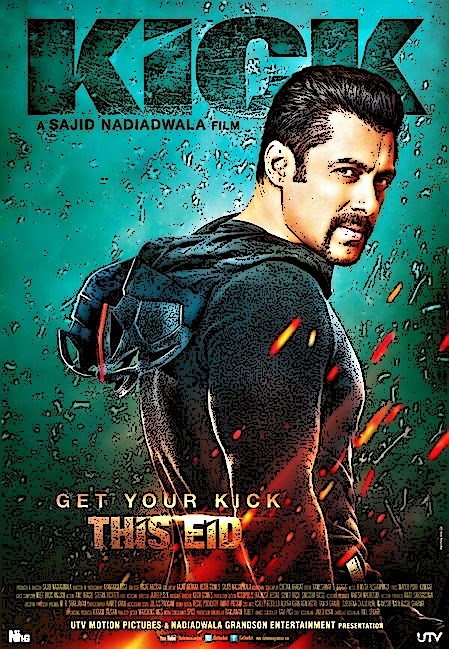 I realized I had not written a movie review in a long time. It was partly a conscious decision actually. I keep myself updated with almost all new movies (watchable ones) and sometimes they turn out to be a pain as well. How many times can I write bad reviews. In recent times movies that were worth mentioning here would be – from 2013 releases – Krrish 3 (I loved it), Bhaag Milkha Bhaag (Farhan was amazing) [and no I didn't like Ram-Leela aur Chennai Express irrespective of their awards or the moolah raked in] and from 2014 – Highway, Queen, and may be Holiday.
I have seen such bad and mindless Bollywood movies in the last one year that I didn't want to write on them. This weekend I watched Salman's Kick and thought I should write about it.
Devi Lal Singh (Salman) is one of those few specimens who enjoy everything that gives him a kick! HE keeps changing jobs in spite of a genius (and has a wall full of certificates) because the regular jobs doesn't give him a kick. He helps a friend to run away with his girlfriend to get married and also helps her MLA mom and her gang of goons to stop the marriage – that gives him a kick. [or whatever that is supposed to mean].
Devi meets Shaina(Jacqueline) the "magaj ka doctor" during the on-the-run wedding and takes an instant liking for her. She is a complete opposite to him, but as they say Devican charm anyone with his Robin Hood style. Just when the romance was blooming Devi resigns from his job and Shaina is worried about how he will settle down in his life. At this point Devi makes a resolution – his new kick will be earning money.
Then you are taken to Poland where Shaina meets her prospective groom Himanshu (Randeep Hooda), who's a top cop from Mumbai. Himanshu turns up in Warsaw to catch this high profile thief – Devil who loots people who are in the headlines. Devil performs dare devil stunts and manages to loot the wealthy. Will the cop catch him? Why he decides to loot? You need to watch the film may be – (unless you have already guessed)
I still am trying to digest this movie. I needed a good night's sleep to overcome. Let me say what I liked before I start on my loooong list of what I didn't. Some dialogues are nice and Salman Khan dances in the movie, for a change. Now by dancing I mean he does little bit of popping and locking apart from his own genre of dance. But the best past is he has sung!!! And he has sung well. The Hangover song somehow gets into you and doesn't leave for a long time. And this time it is far far better than his "Chandi ked al par sone ka more" song from Hello Brother, if you remember that movie. May be that's due to great song mixing by Meet Brothers, but I gotta applaud Salman Khan for that song.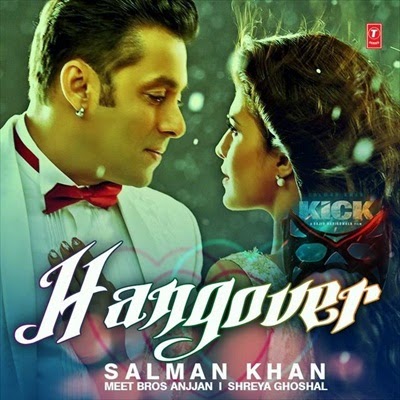 Now, to keep it short I felt – Dhoom 2 + Krrish = Kick, with a little dollop of Dabangg and a sprinkling of Jab Tak Hai Jaan.
What did I mean by that? Chetan Bhagat must have seen Dhoom2 and then Krrish and decided to write Kick. First half is all Dabangg – our Devi likes things which give him a Kick. Be it helping friends elope and marry or beating the pulp of "micro terrorist gang" or eve teasers. In second half Devi Lal becomes the Devil – a masked robber with an attitude of Aryan & Sahir from (Dhoom2 & Dhoom3) and with a mask like Krrish. He even leaves a miniature mask everywhere as his trade mark signature. Only here the mask looks shabby with a cloth to tie it from behind. He also happens to have retrograde amnesia – that's what the doctors tell – and you know why I was referring to Jab Tak Hai Jaan.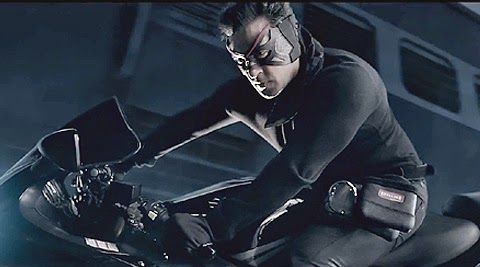 After an hour I thought let me just watch Salman and not think anything. Anyways isn't that one does in a Salman movie. If you guys don't know I love Salman and watch all his movies. But this one was mindless. Where was the story Mr. Bhagat??
Coming to the other cast – Jacqueline looks pretty and dances well and apart from that probably the director even didn't know what she was doing in the movie. Even at the end of the story she is absent. Randeep Hooda & Nawazuddin Siddiqui, however, has done pretty good job as the cop and a corrupt politician. Though I didn't quite enjoy his half-coughed laughs.
Mithun Chakraborty plays Devi's dad and has a good 5 minute on the screen, that is all that you see of him in the film. Some crazy dialogues though cheesy will make you laugh (maybe) like "meri cat mujhpe attack!" or a "Dr. Psycho, chillati kaiko?" or "dil mein ata hoon, samajh mein nahin".
Apart from this I don't know what to say. I sometimes like mindless stuffs, like how I had liked Dabangg. Dabangg also didn't have a super earth shattering story but it still offered that charisma, that hero image and fun antics which was missed in Kick. Yeah Salman Khan looks nice – he actually does in the French beard, dances well and is funny – but that's about it. Ohh… I just remember there's no shirt less moment here!!!!!!!
It is the official remake of a Telugu film by the same title. It's the flavour of Bollywood these days to re make south films and Hollywood films.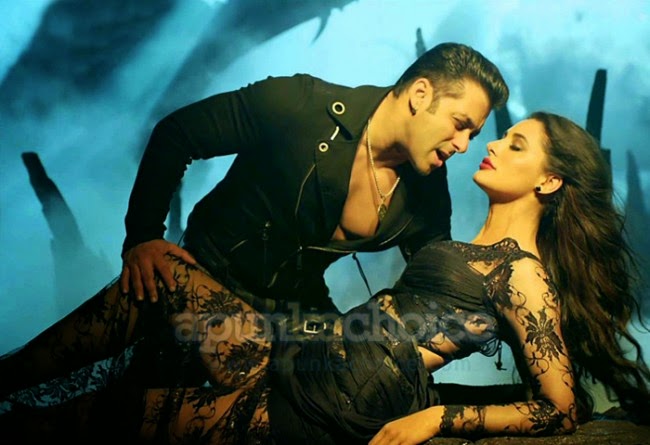 Hmm… Salman has managed to create a new genre in the past few years. You get action, you get comedy, you get romance movies and you also get a Salman Khan movie. Kick is definitely one of that genre. I'll give it ratings – for being a Salman Khan Movie & for having songs which are sung beautifully by Salman. Other songs are not that great btw. Nargis Fakhri's Marjawanisn't that killer a song, the otherwise super hot girl didn't bring much heat on screen. Nor could Honey Singh do much Yo Yo here. Jackie looked hot in Jumme ki Raat though. That was all that she did in the movie. Unless I slept and missed some part!
I read in the morning, that Kick made 50 crores in 2 days and I also contributed in that. Now Salman Khan fans can do anything for Bhai, I prefer only Salman though! Now if you are going to watch it – best of luck, and if you already have – I can totally empathize.
My Rating – 2.5/5
———————————————————————————
———————————————————————————