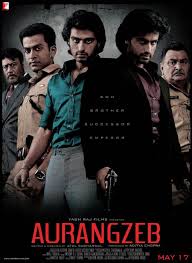 Was again at a movie after work to rejuvenate. And this time it was
Aurangzeb
at Q Cinemas. Reaching the movie after work in this traffic is a huge task in itself somehow I managed to be seated in nick of time just when the casting was over.
I didn't have much expectation from the movie but it didn't disappoint largely like some of the others that I saw recently (I am talking about Bollywood movies). So here goes the review (again an honest review) before you see crazy star ratings in different sites (namely the online news portals). Why I give honest reviews – because tickets doesn't come free!
ACP Arya (Prithviraj Sukumaran) figures out his dad (Anupam Kher) was thrown away from the police department for an alleged encounter of the wife and son of gangster Yashwardhan(Jackie Shroff) instead of the gangster himself. But he finds them alive and safe after 25 years. Along with his uncle DCP Ravikant (RishiKapoor) he plans to bring back the honor of his dead father who had sacrificed his career and family to keep this mother and child safe for years together. Vishal & Ajay(Arjun Kapoor) are the twin sons of Yashwardhanand are unaware of the existence of each other. With a master plan to plant an Aurangzeb in the group Ravikantprepares to break Yashwardhan and his faction with the help of one of the twins.
How he goes about doing it, and the multiple twists and turns are what you need to watch and figure out.
At first you think hey these used to happen in the 80's movies – twin brothers separating in childhood unaware of each other's existence, double role swapping, bad guy becomes good guy, twists and turns of police brigade etc etc. And all of it you find here also. Sometimes the plot gets little confusing also but you will not get bored, that I can tell you.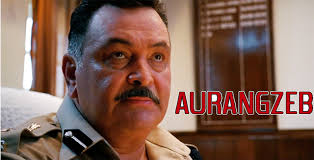 There is a huge star cast (well I don't know if I can call it a 'star' cast). And the most impressive one is Rishi Kapoor with his shades of grey. Rishi Kapoor with all his movies lately has only impressed me be it Agneepath or Aurangeb. For me the hero f the movie is him and no one else.
Arjun Kapoor in his maiden double role has done a decent job though he needs a little more maturity to carry off a double role with flair. However, the transformation from the good twin to the wild twin was good.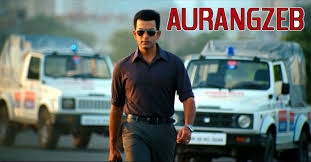 Malayalam star Prithviraj Sukumaran finally got a role where he could show his skills. I think he was completely wasted in the film Aiyya(yes I saw that too! How embarrassing). I find him quite nice and think has a good potential.
It was nice to see Amrita Singh after a long time. She carries out her dark character quite well. Jackie Shroff looks ghastly (don't know if that's make up or otherwise) but his voice my god doesn't need any sound effect for his voice I guess. He carries out his frail gangster cum real estate tycoon role quite nicely.
Coming back to other actors in the movie, the new girl Sasha Agha as an infiltrator does okay. Girl I don't know how you will do in future in the industry but you have great hair! Anupam Kher, Dipti Naval drops in as cameos. There's also Sikander Kher but I only figured that out when I saw the end credits.
It's actually very odd when you figure out that all the men of an entire family is in the police force that too in the same city! The chacha is a DCP and the bhatijais the ACP! All brothers, brother in laws in same police bureau!
Aurangzeb has some witty dialogues mostly by Rishi Kapoor and some by Arjun Kapoor as well. For example "Main aur budhiya to yahan Big Boss Big Boss khel rahein hai" (when they are confined in a secluded house for days together) and some more on which we all laughed but don't remember now!
Now coming to the big question – why is the film called Aurangzeb? And who is this Aurangzeb? Well, even I am not very sure. We are told repeatedly that "Kingship knows no kinship" and to get to the top you need to follow Aurangzeb who killed his siblings to gain power. There are many points in the film when you will find its Arjun Kapoor who is the Aurangzeb, and then you think no its Rishi Kapoor, or is it Prithviraj?? You gotta watch the movie to figure out the real Aurangzeb.
My Rating – 3 out of 5.
3 because I thought it wasn't boring and kept you held in the story.