"A helpless and ailing father lying on a bed, mother doing household chores in neighbour's house and a child who is selling flowers on the roads"— after reading this line, you might be thinking that here I am discussing a Bollywood film. After all, the story of most of the Hindi films revolves around this idea only. But, there are many sad stories of families broken financially in real life also. In fact, many of us have experienced the situation, or at least know friends or neighbours who have piled on debt, sold their properties and occasionally sacrificed their career to take care of their ailing loved one.
Are you sure your family is safe from the exorbitant medical expenses? The answer is that every family carries this risk. Here I suggest some steps to curtail the risk and protect the future of a family from high medical costs.
1. Be careful on roads, and go for a personal accident cover to get double protection:
Though, you are a responsible driver who has years of driving experience, you can't rule out the fact that many a times accidents happen not because of your fault but due to the carelessness of other drivers on the road. What is devastating is watching your family struggling with medical expenses if, god forbid, you are involved in an accident.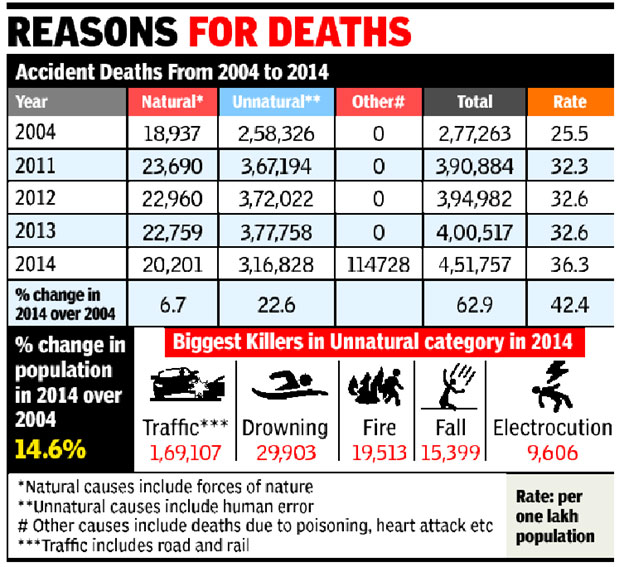 Source: The Times of India
Though it is good to follow traffic rules, like wearing seat belts, avoiding rash driving, etc. it is useful to go one step further and buy a personal accident cover which provides compensation in case of disability or loss of life. As personal accident cover is not limited to motor accidents only, you should go for the policy, even if you seldom come out of your home because accidents can happen while climbing stairs or playing football with friends.
2. Buy health insurance when you don't want it because you may not get it when you need it:
To get easy premium rates, you should buy a health insurance when you are young and free from medical complications. Also, if you buy health insurance now, then you can get maternity coverage also, which in most of the cases comes with a waiting period of 2 to 4 years. Even if your company is offering health insurance, it is pertinent to buy an individual policy. This will ensure coverage even if you change jobs or your employer discontinues the policy at any point of time. Further, it would be much easier to continue renewing the policy you hold than buying an expensive policy with limited coverage after retirement.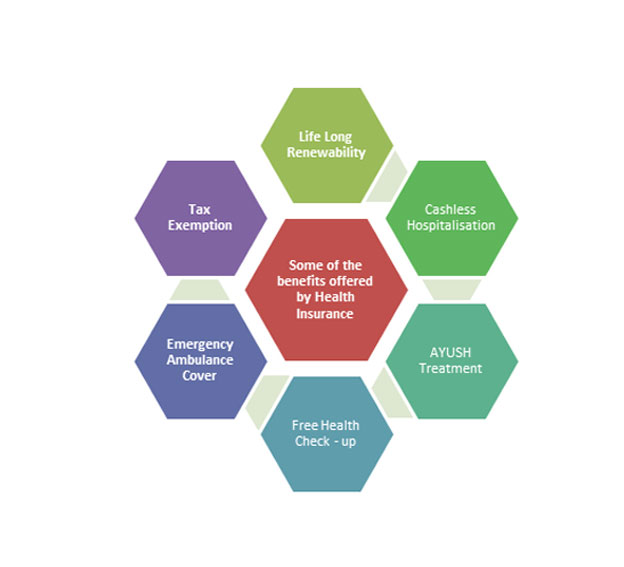 While choosing the policy, make sure to go with the one covering out-patient department (OPD) expenses, like doctor's visit fees, pathological tests, medicines, etc. An OPD is one of the hospital departments where patients get medical treatment without staying overnight. Due to the rising medical costs, most of the people avoid visiting doctors, and here the OPD cover can come to your rescue. It covers non-hospitalisation expenses for medicine, medical checkup, etc.
3. Critical ailments can strike anyone, irrespective of age and health:
Due to the sedentary lifestyle, the incidence of critical ailments like cancer, kidney failure, heart issues, etc.; is rising at an alarming pace in India. These critical ailments not only affect physically but financially as well. The most disturbing fact is that people under 35 years of age are also grappling with these ailments. According to insurance estimates, 40% of heart patients belong to the age bracket of 25-35 years.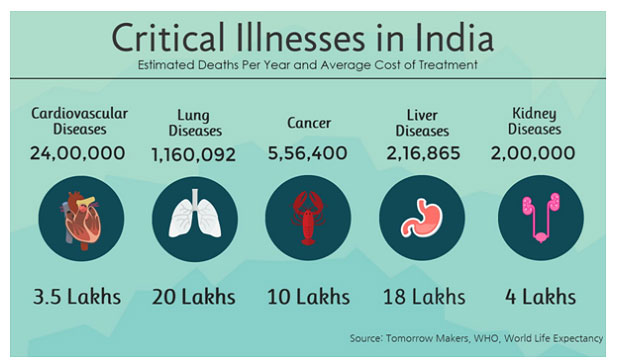 Source: The Economic Times
But what if the breadwinner is diagnosed with a critical ailment and he/she loses the job? Besides medical treatment, there are household expenses, loan EMIs, child fees, etc.; for which money is required. As a breadwinner of the family, it is important to buy a critical illness cover which offers a lump sum amount on the diagnosis of any of the critical ailments mentioned in the policy document. The amount can be used to meet both medical and household expenses. This is a sort of compensation for the pain endured. If there is a family history of critical ailments or you have a fear of such ailments, you should definitely go for a critical illness insurance cover.
4. Boost your health cover with super top-up plans:
What if you have a health insurance policy, but you exhaust the limit? It means you have to pay the remaining amount from your pocket. To avoid this situation, it is good to boost your health insurance cover with super top-up plans which cover the expenses when the threshold limit of the current health insurance policy is over.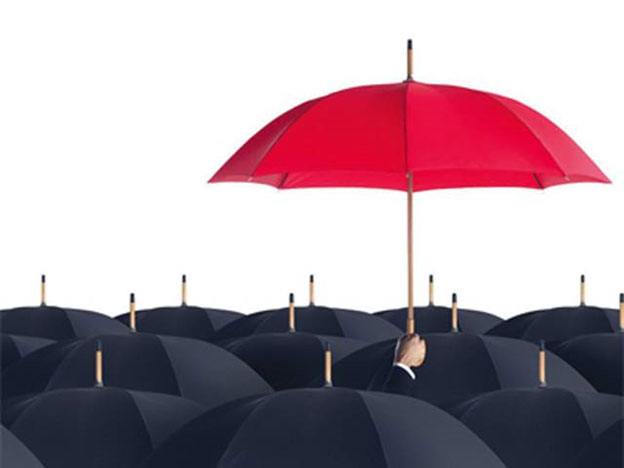 Source: The Economic Times
Moreover, as super top-up plans consider the 'total amount' of the bills in a year, and not the single instance, they give much wider coverage as compared to top-up plans. For instance, you have a health insurance policy of Rs 5 lakhs and a top-up health cover of Rs 10 lakhs with a threshold limit of Rs 5 lakhs. In this case, your top-up will help you only if your medical expenses exceed Rs 5 lakhs. However, if you have two separate medical bills of Rs 4 lakhs each, the top-up will not help you because none of the bills has crossed the threshold limit, which is Rs 5 lakhs in this case. Here, super top-up plans can come to your rescue. If you also have a super top-up plan of Rs 10 lakhs with a threshold limit of Rs 5 lakhs, the above two medical bills of Rs 4 lakhs will be covered, as the total bill amount (i.e., 4+4= 8) has crossed the threshold limit, which is Rs 5 lakhs. Moreover, you can buy super top-up plans even if you don't have any health insurance policy.
5. Stay healthy and earn rewards:
If you think that your fitness regime can only shed extra fats, then health insurance companies in India are here to prove you wrong. Insurers incentivise policyholders to stay healthy by doling out rewards. Various insurance companies reward their policyholders with wellness points for pursuing any of the healthy activities like running, jogging, joining yoga/gym, quitting smoking, etc.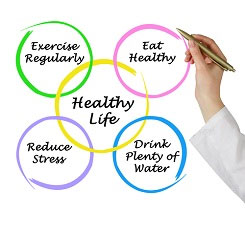 By keeping a healthy lifestyle, you earn points which can be further redeemed to avail services which are not covered by your health insurer like medicines cost, consultation charges, dental expenses, etc.
6. Create an emergency fund:
Though, the above-mentioned insurance policies will help you tide over any financial emergency, it is good to create an emergency fund, which is nothing but savings parked in liquid assets to be used during a medical crisis. Remember, the return is not important here and what is more critical is that the money should be easily available whenever a need arises. You can keep a month's expenses in a savings account, and the remaining in liquid funds which are short-term fund schemes from where money can be withdrawn without any extra loading charges.
Finally, eat healthy and exercise regularly because these are the only mantra to stay healthy and live a richer and healthier life.
I am taking part in the Ultimate Blogging Challenge, 31 Days of Marathon Blogging with Daily Chatter. Follow me on Twitter & Instagram to stay updated with #TinaWrites and #TinasBongConnection