If you never had had a problem with your maid or house help (for those who employ them) ever in your life – are you sure you are a human? Sometimes you are so dependent on them that you prefer to put a blind eye on all the nonsense that keeps happening around them.
But some do get lucky and are found saying – 'we have an amazing maid', however, the larger lot is still in the 'constant-maid-problem' category. Some time back I had written about my chronicles of Tricking the Thief – the story of me catching and recovering gold and cash from my maid's house!
What Now?
Now a few years and a new house later I am again finding in a similar situation – Maid driving me nuts!
Currently I have two persons working for me with cleaning and cooking works. Ever since I employed the second one, the original maid – let's call her P – has flared her wings out. Now since, I have a baby – all I want need is the floor to be clean at all times. That isn't too much of an asking anyway. So P decides to take frequent leaves because – 'the cook is there, you tell her she'll help you out' – her words of advice.
Sundays are the days when only P comes for cleaning and the cook has a holiday. For last few weeks P has decided to fall sick, has her back pain, neighbor problem, water problem, apocalypse, earthquake, flood and god knows what not only on Sundays.
Last Sunday I spent my day
running after my son who wants to crawl around the house, especially in the areas where you'll have dust and dirt
cooking
cleaning utensils
waiting half a day, thinking P might just turn up
trying out her phone a zillion times and hear it ring for god damn zillion minutes
cleaning the house
keeping my sanity and not deciding to kill some one
Maid Tantrums
I have always been a good employer and have seldom told them no for things like – advance salary, financial help, medical help, leaves etc etc. But even after all these help for them lady P increasingly started taking the advantage.
So much so – she tells me one "I don't have time to clean balcony, will do it on Sunday" and quite evidently she was having 'a muscle pull' that particular Sunday and couldn't get herself to work!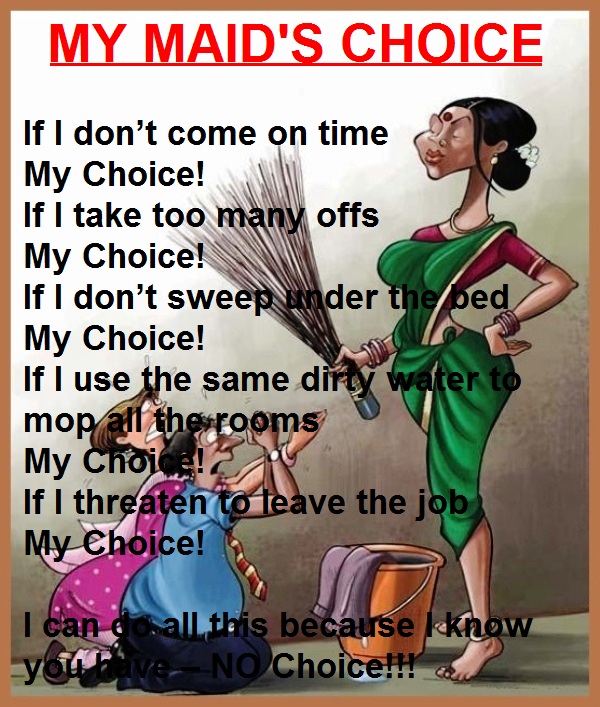 Today she was jovial as she tried entering my house. She had informed me and taken the day off on Saturday and decided to extend her holiday yet again on SUNDAY.
Her story was even better.
"Saturday I was doing puja madam, Sunday I got sick"
When asked, why she didn't respond to the calls or inform me.
"I didn't even have my phone with me, it was in the hospital"
On enquiring about why in hospital –
"I was so sick I was admitted in hospital, now I am coming directly from hospital"
And she was at my door dressed in bright clothing, flowers in hair and ornaments – such a perfect attire to get discharged from hospital.
I had to fire her. Thankfully I have one less maid to drive me mad. But I'll have to arrange for one to look after the cleaning aspect of the house. Or maybe get one of those robot vacuum cleaners! What say?
Moral of the Story
Don't be a bad liar!
On a serious note do not take advantage of people's goodness, it backfires most of the time.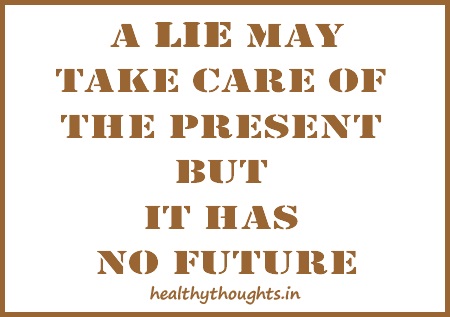 [color-box color=" customcolorpicker=" rounded=false dropshadow=false]Post written for #MondayMusing at Everyday Gyan.[/color-box]