A record opening partnership of 142 runs, a scintillating century of some 90 balls by the greatest batsman, a 125 odd run second wicket partnership – all of this look like a good setup of a challenging game of cricket. If you are thinking about how to mess up this situation just ask our Great Indian Players minus one [you know whom I am talking about].
I can't believe that India, supposedly, one of the strongest team in the World Cup 2011 created a chaos out of a probable high scoring interesting game. A lightning start by Sachin and Sehwag was dampened by the rest of the players and in what a fashion! At one point of time, I was thinking, Gautam Gambhir was confused whether he was playing a Test or an ODI!

 

From a 269 for 2 to 296 all out looked like a joke. The Men in Blue started falling like bowling pins once Sachin was out. What were they thinking – this is Galli Cricket? Wasted the whole effort of two great batsmen and couldn't even reach 300 when the projected score at one stage was over 370!
Right at the beginning of the World Cup we read our team goes in as favourites – I am asking HOW? By riding on one great man? What is he, a Super human? A Super Computer?

 

Or a Super Rajinikant? I am sure even Rajinikant can't help these men to pull themselves up to do something sensible. This is not all, this one man has been serving the country for over 20 years without a grudge and has brought immense pride and joy to her, and still there are people who don't think before telling "Sachin can't win matches!" I am tired of hearing/reading this statement. But to all those people who dare to make these proclamations first answer my questions – Is cricket a match played by one player? Is one player responsible for a team's performance? Is one player supposed to bat, ball and field on behalf of all the other players of the team? Is the team made with only one man? All those answers are NO. SO STOP CRITICISING THE GREAT MAN WHO HAS ALWAYS FOUGHT FOR HIS COUNTRY.
I came across this interesting stats by Vijay from Bangalore, so I am quoting him here. "I am sick and tired of hearing people blabber that Sachin's hundreds do not come in winning causes. Below are the facts:- What statistics shows is that out of Sachin's 48 ODI hundreds, 33 were in winning causes, 1 in tie and 14 losses. And in tests, out of 51 hundreds – 20 wins, 20 draws and 11 losses. When someone plays for so long, it is only expected that some matches will be lost too. Hope this seals the debate. Whenever someone tells otherwise, reply to them that it is their own 'personal illusion' and not 'statistical conclusion'". Thanks Vijay for sharing this.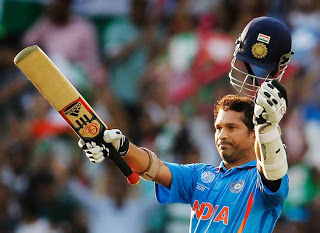 Today was no different. Batsmen after Tendulkar didn't bother to score runs. 8 wickets for 29 runs, I don't even know how to react to that. I am still trying to come out from the shock. Right now I am raging inside. I had thought it is better that I don't write this post now, but I am filtering a lot of un-friendly words (read abuses) that are coming to my mind and trying to write something clean.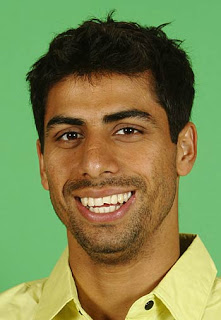 Batsmen gave away their wickets, fielders didn't bother to take the crucial catches, bowlers were trying to keep the pressure on SA at one stage of the game. But WHAT ON EARTH WAS OUR CAPTAIN DHONI THINKING BEFORE GIVING THE BALL TO ASHISH NEHRA FOR THE LAST OVER? I can't get over this still now. All hard work of Sachin, Shehwag, Zaheer and Harbhajan was blown away with that one decision. I just want to know if Harbhajan told Dhoni he wanted to go to the loo so wont ball! Why Ashish Nehra out of every one else? The moment I saw Ashish Nehra flaunting his monstrous white teeth after the boundary in the first ball I felt like blowing those off!! Let me not write what I felt like after the six. But the bigger question is, why is Dhoni obsessed with Piyush Chawlas and Nehras? I always thought you preserve your best bowler's overs so that you can use them up for the last overs, was he thinking Bhajji's Doosra was inferior to the seam of a bowler who is playing a match after god knows how long?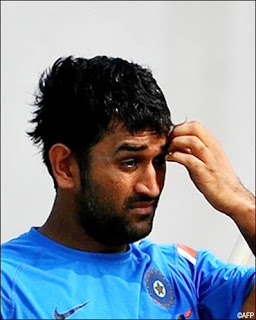 I hope we don't have to regret decisions like this latter in the tournament. I can only perceive this game as a mess from all corners. One bright shining star couldn't lighten up the rest and I am sure tomorrow those loud mouthed faultfinders will not step back from stating "He scored the century but India couldn't win, He can't win matches" Again, to all of them GO GET A LIFE OF YOUR OWN. Nonetheless, I am happy that the God is just one step short from a dream like record – 'A Century of Centuries', that is the joyous moment I am waiting for. And I couldn't stop myself from celebrating the electrifying 99th century despite the loss of the team.