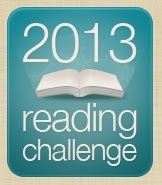 This isn't a great news for a book lover like me, but it's true. I failed miserable in the Good Reads Reading Challenge 2013. 21 books out of 52 is just terrible. Yeah there are many things that I can defend with – the target I set was too high and not getting time and so on… but then that's not what I wanna do. But take a look what I am planning.

Pathetic Result
I had thought I am keeping a safe target of 1 book a week, but then maybe that's not what I should do… sometimes I get my hands on these huge serious books which takes time. And then I need to reduce driving to work. Last two months I drove everyday and hardly got any time to read. I should get back to my bus trips, I get to read quite a lot – thanks to the Bangalore traffic.. [I was just about to use a hash tag!! I keep tweeting about the traffic all the time… people near me are all tired of it I guess by now.. haha]
Ok so now this yea I am entering the Good Reads Reading Challenge 2014 with a little safer target of 30 books. I hope I can make it. Though haven't finished one this year…

Keeping it Safe this time
Are you also a part of any reading Challenge??
Let me know if there is any interesting fiction reading challenge that I might like, and I'll give a try there as well…