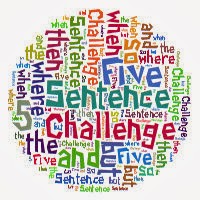 Its becoming quite a month tell you. Posting fiction a day, I had planned to write and save things in draft ahead in time but did it only for the first three of them in the a to z challenge, so now it's like thinking writing and posting a day. And then there are the regular features in the blog which I don't want to miss. So I am at the wee end of the time for this FSF but still as they better late than never.
Her Whimsical Life
Nadine led her life her way as she always wanted to.
She was a dancer at par from a very young age and the world of glamour, lights and music intrigued her, always.
She stayed away from family and seldom spoke to them and the relatives who lived in the country.
They gave her names and called her crazy, mad, demented and always had a nasty comment about her whimsicallife.
But she didn't want too much from her life, she was just happy being a show girl at Vegas, she did what she liked and very unabashedly she loved her life.
————————————————————————————
Word theme for the current week is WHIMSICAL.
————————————————————————————