Thank You is not just a magic word – it is a very powerful word. Don't you think so? Welcome to another beautiful week of #ThankfulThursdays – a day when we practice Thankfulness, Gratitude and Appreciation.
Here is a quote prompt this week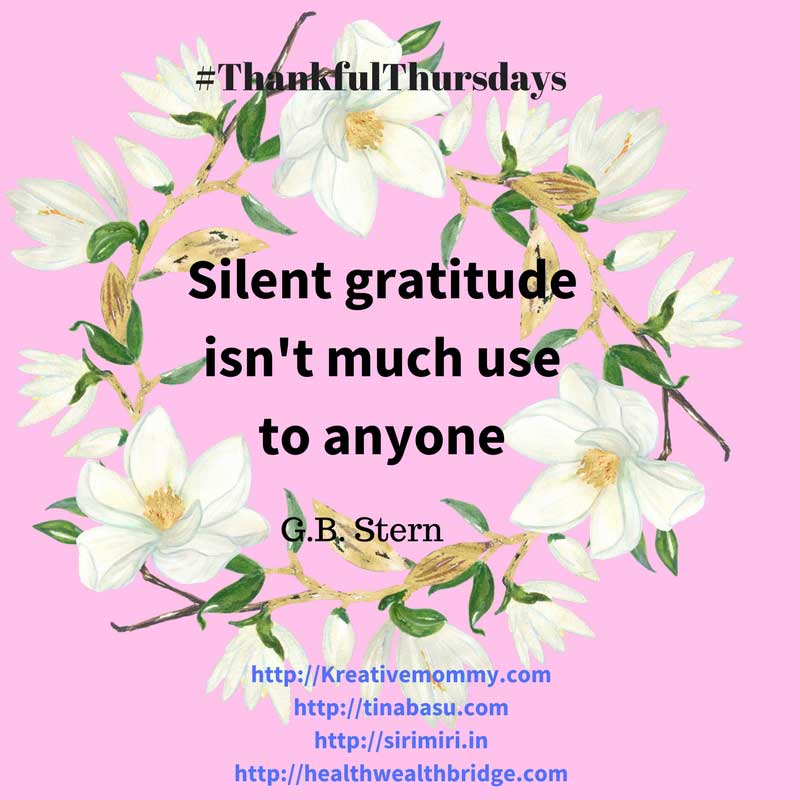 It is in human nature to look for a little appreciation from somewhere. Appreciation motivates us, it gives that little push we need to go through our lives. A little goes a long way. I make it a point to thank often. Not just in my #ThankfulThursday Posts but in person too.
I always thank the person at the cash counter, the cab driver, the watchman. And I like it when they say 'welcome madam'. Thanking someone for small things doesn't make me small. But it gives me a sense of peace.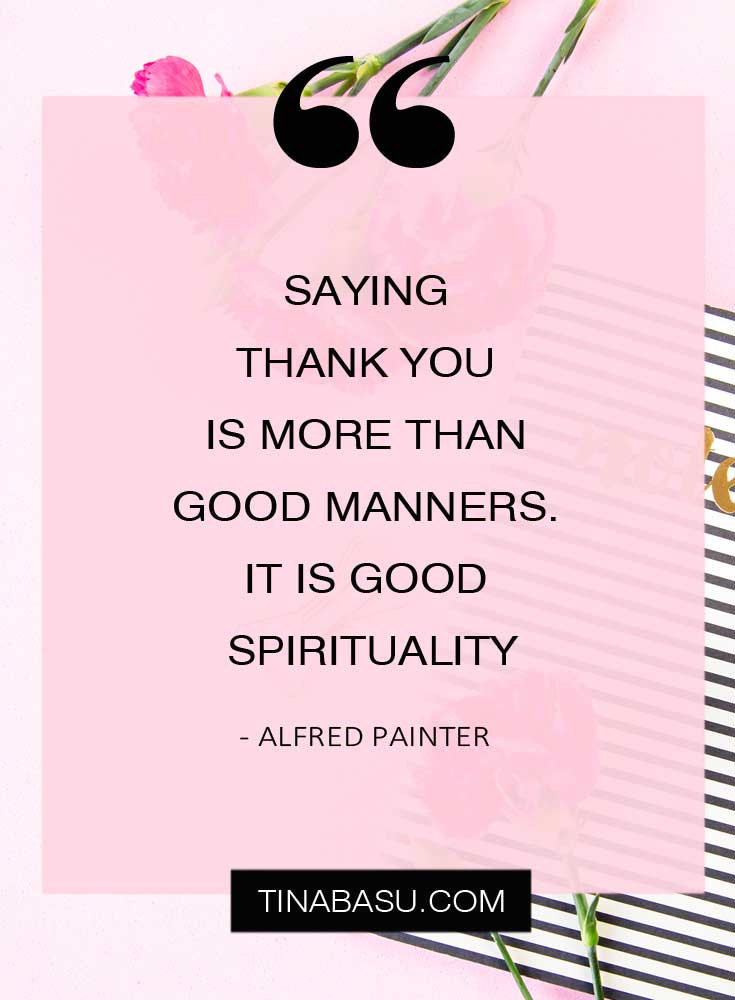 It is also important to say thank you to the people who you are the closest to you. Not just because they are your near and dear ones but most of the time you tend to forget to appreciate them. Humans tend to take others for granted – especially the ones close to them.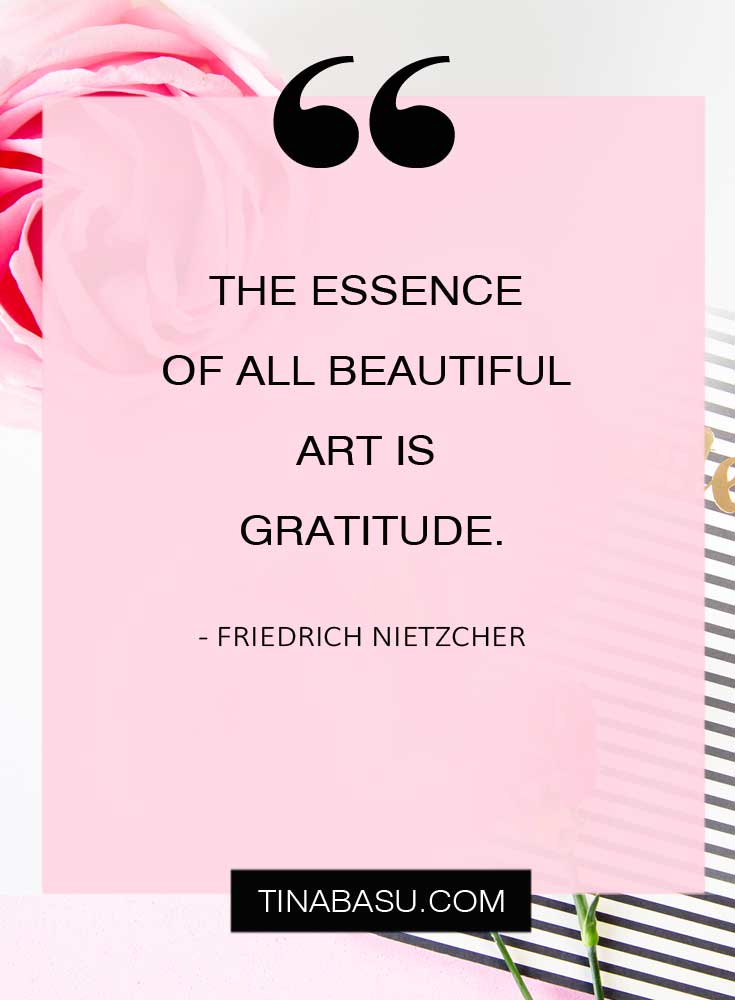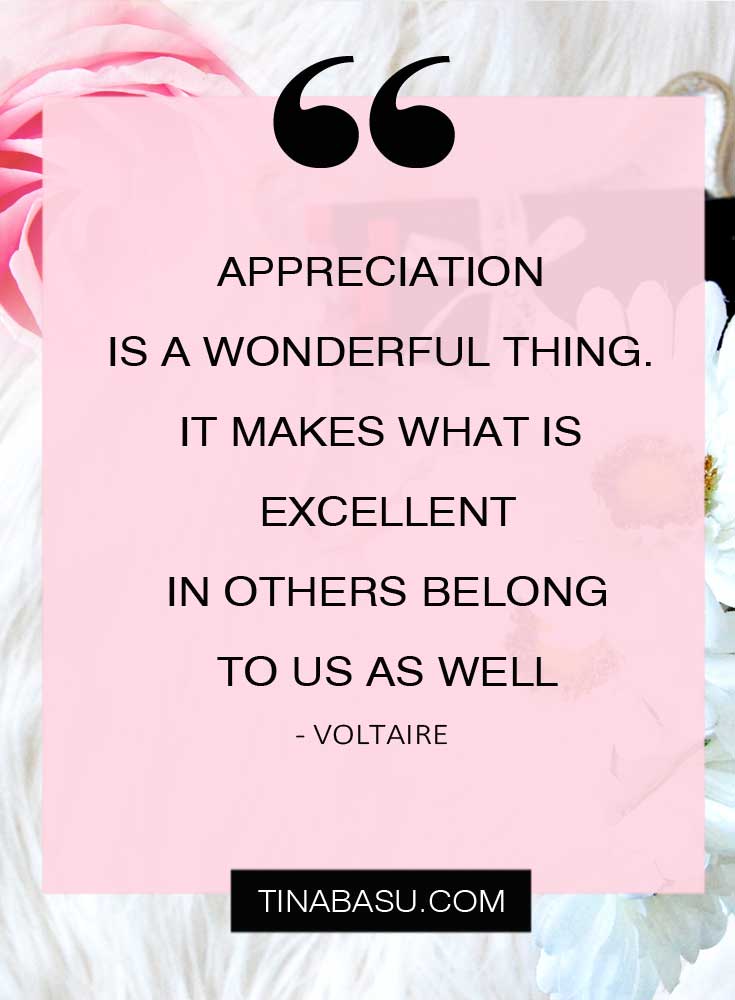 Let's do an exercise for the next two days.
Next time you visit your grocery store thank the cashier when he gives you the change
Next time you take the Uber or Ola thank the driver when they drop you
Next time someone keeps the lift open for you thank them
These are little things in life but they give you immense peace in mind. My little one is now very active. He has become the flag bearer of cleanliness! He is always helping either me or the maid or the cook. The other day I was gardening in the balcony and he tagged along. He picked up the little stool and brought to me so that I could sit and do my work! I told him thank you Bluey! He replied back 'yallum' – which I am assuming was welcome in his language!
Last but not the least – Thank you, readers, for reading and sharing your thoughts with me. Without your love there's no point in me writing anything!
#ThankfulThursdays Week 16 Winner
The super creative and energetic Shalini of Shalzmojo.in is our #Thankfulhursdays winner this week .Read her winning post here.
We love you Shalini and your mojo.
Congratulations Shalini !Ypur creative spirit and enthusiasm is inspiring.Love all that you are doing on your blog .Sending you loads of love and best wishes
Say HI to your #ThankfulThursdays team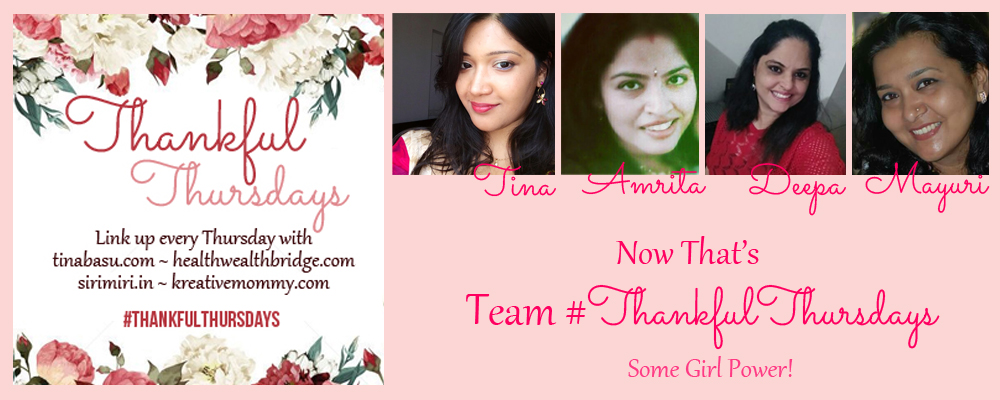 How to Participate in #ThankfulThursdays?
Follow @twinklingtina  @misra_amrita @Mayuri6 and @Deepagandhi1 on Twitter
Prompts will be announced every Wed 20:00 hrs IST
Read, comment, share on host and co-hosts posts and at least two more posts linked in the party Pro Tip – Networking and commenting is good for your blog's health and ranks.
Use #ThankfulThursdays in your post and share in social media using the same hashtag.
Every week we will have one featured blogger who is the best reflection of this community spirit
GRAB THE BADGE