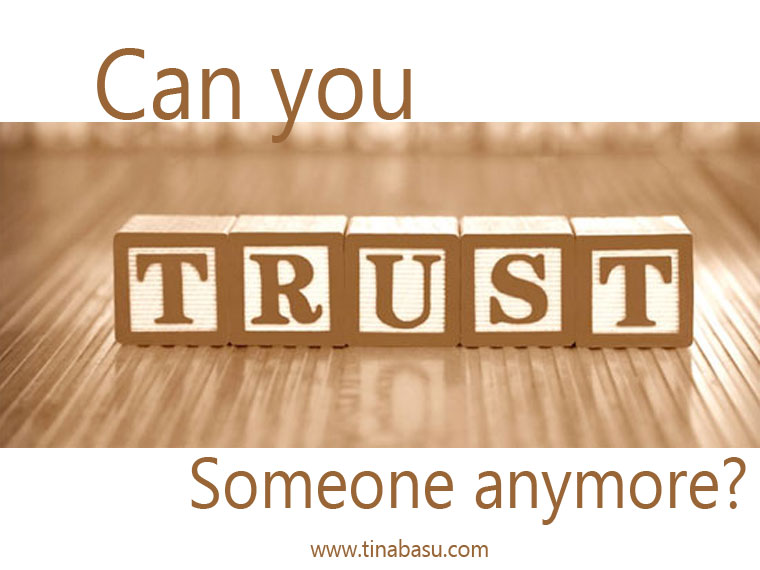 Trust is a virtue according to me. If you can't get someone to trust you then something is wrong somewhere. I try to give the benefit of doubt to people and trust them if they tell me something.  But I am not sure how right I am being in doing so.
The person in question this time is my house help. She has three sons, the youngest being 6 year old. She had once asked me for some money in advance citing children's school fee, admission in new academic year etc etc etc.
She had told me, she works very hard so that her sons go to good school and I was hugely impressed with her commitment to education. According to her she sends her sons to an English medium school in my locality and children from our complex also go there. This again impressed me and I thought she was trying her best to give good education.
I always helped her financially whenever she asked for advance. She once asked for an old backpack, which I didn't have that time. Upon asking she had said she required that for her son because his school bag was torn and they didn't want to buy a new one.
I went ahead and bought a Doremon schoolbag for the little one and also one for his elder brother, because she said the middle one will feel jealous is he younger one uses a new bag!
Now the said maid is sick and has given me a replacement – who is her sister in law. I try to avoid all these maid gossips yet the things I got to know from this lady are quite startling. According to this sister in law – the maid had got the younger two sons in a school last year (she wasn't even employed then at my place) but then didn't continue their schooling, not even at the local government school. In the name of education and school fees, she has been collecting money from all households where she works for other expenses, including shopping for clothes and jewellery!
My tryst with maids have been bad. Read how I caught a maid for theft at my place.
This is something  that made me upset. I still don't know who to trust – the maid or the sis-in-law. But I feel cheated  – not just with the money and help but I feel cheated of trust I had in her. I can't do anything about it – rather I don't want to do anything about it. Only thing I want to do is not lend a ear to all these pleas by the maids. Though only today I bought a new phone and handed over to this replacement sis-in-law because her phone broke and I don't have a spare one that I can give her. I also ensured I told her that the money will be deducted from her salary. No more being lenient!
Read how another maid tried to take me for a ride here
Seriously I sometimes think – why people take you for granted and try to dupe you when you are being good to them. Is being good a bad thing or a passé already? Do you face such situations where you find it is difficult to trust people you work with? Let me know.
Linking this post to #MondayMusings at Everyday Gyan. Also linking to 1000 Voices for Compassion and Mackenzie Glanville's post and Mel Ford's#MicroblogMondays.

I am taking part in the Ultimate Blogging Challenge, 31 Days of Marathon Blogging with Daily Chatter. Follow me on Twitter & Instagram to stay updated with #TinaWrites and #TinasBongConnection