Ever since I bought my apartment we have been taking a lot of interest in the interiors. It is our first apartment and since we are staying in it we wanted to get all the best stuffs. I have been after the interior designer for the kitchen and modified their designs to suit my liking. I am happy with the efforts. It's not possible to finish off your interiors at one go. Because tomorrow for all that you know you might want something else. So we are taking time to do up our home and I don't mind that.
I came across these beautiful home décor and interior products from

Porcelanosa

which give you that Mediterranean feel. This Spanish organization has been spreading their magical touch in interiors for 40 years and guess what they are now entering Asia with Kolte-Patil Developers for their luxury brand

#24KLiving

. If you have not checked the project already you should definitely check it out here.
Now if I had to do my interiors with Porcelanosa products I would redesign a lot of things.
Let's start with my foyer. I have a pretty large foyer which opens up to the living room. I have made a huge shoe case from ceiling to floor for the little beauties that I have. I am a shoe-o-holic (if
there's a word like that).
The shoe cabinet has a descending design. And I think something earthy should be just perfect for the wall behind it. This mosaic wall tile will give that earthy feel to the wall. With great lighting this should be perfect.
I have wooden flooring in my master bedroom and I totally love it. I wish they had wooden flooring in the living room and lounge as well. It's perfect for the parties and winters. How about this designer natural wood finish for my living room floor. I can see myself dancing on it!
Now let's get to the most favorite place of mine in my home – the master bathroom. I like luxurious bath experience. Even if it's compact it should have every thing that your heart wishes for.
In apartments you don't get a scope of having everything that you want. But you can always design it smartly to utilize the space well. Clutter free
minimalist
bath space is what finally you I want. I would get a shower enclosure like this for my master bath. I like it for it's minimalist
clean design.
And the best partner for the shower enclosure can only be the rain shower. I love the LED lighting on the shower panel. It would give just the perfect rain shower experience when you want to get soaked.
And last but not the least, how can i forget my love for clothes. I would ideally want a walk in closet with ample space for clothes. Hanging options for my formals and dresses and racks for my casuals and woolens. How about something like this? It would be just amazing.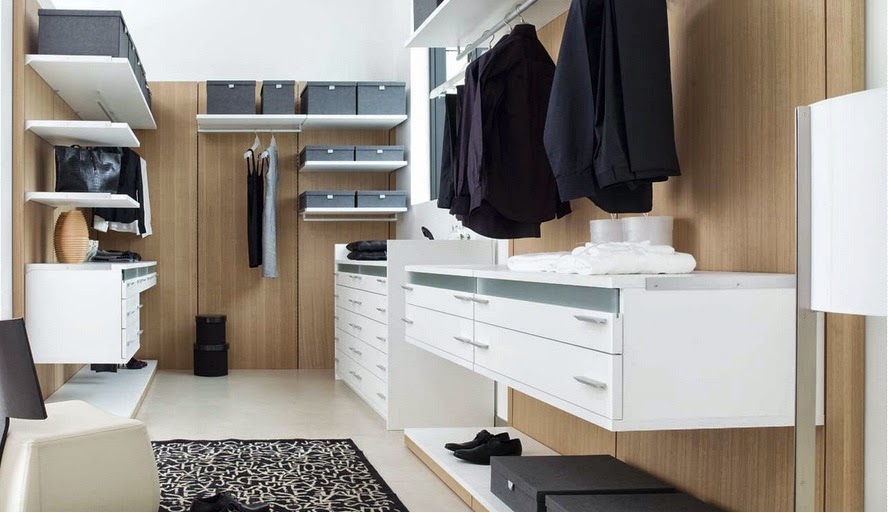 This definitely will be a dream walk in closet. Image Source
Yay… My dream

24K Home's

dream interior is ready. What do you think?? I actually love this closet!!