Being away from home and family becomes tougher when you start missing all the gatherings, social dos, celebrations and mostly all the festivals. Being an Indian I can vouch that we celebrate more festivals than anyone else. I experienced this little depressing feeling a few days back as I kept speaking to my mother over the phone. I had earlier mentioned about my
'Great Bong Joint
Family' who always get together during celebrations, and my mother's less attention towards my phone calls and increasing busy schedule for last few days reminded me yes the family was coming together to celebrate one of my favorite festivals – Saraswati Puja. But I realized soon that I can't be a part of this joyous celebration from miles down south.
🙁
I'll tell you how I forced Ma Saraswati – the Goddess of Knowledge – to come to my home latter. First let me tell you a little about how I have been celebrating it till a few years.
I remember as kids I and my huge gang of cousins used to get very busy from days ahead of the Saraswati Puja. Every year my dad used to take me to 'Patuapara' & 'Kumartuli' – these are famous areas in Kolkata popular for idols and the magnificent creativity of the artisans – to chose an idol for our family puja. I obviously had my comments and criticisms on the looks of the idols and only after scrutinizing everything starting from the way the eyes are painted, how the hair is looking, whether the saree is matching with the jewelry the idol is wearing and even if the duck (her 'vahan') is looking proper or not did I allow my dad to order the idol. I must have been such a pain for my dad that time! On the eve of the puja flowers were brought in huge baskets from the wholesale market of Howrah for decorating the place. We used to be ready with homemade glue, colored papers and many more items to jump into getting the rooms decked up. Though always strictly warned by elders that we were not supposed stay up the whole night with the excuse of decorating (as this Puja happens in the morning and we had loads to finish in the morning too) they were always happily ignored. But I being the youngest had to bear the brunt and follow the orders. How I hated to go to bed that time when other cousins used to be up [there used to be more gossips and chit chats apart from decorations and I was always told I was too young to be a part of it

🙁

].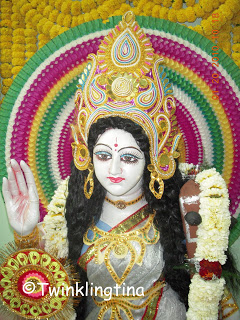 Last years Puja at my house
when we had gone for my cousin's marriage
The morning used to start early with applying haldi [paste of Kancha holud and mustard oil] followed by an early morning shower. This is a must for Saraswati Puja which is held during Vasant Panchami and you can say yellow or 'basanti' color is the theme for the Puja. After that it was time to get into the saree – this used to be an experience. Probably the only times when I used to wear sarees those times!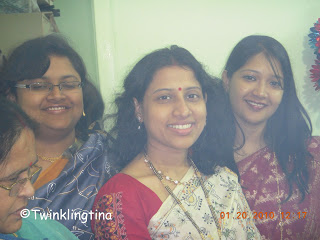 My 'Great Bong Joint Family' believes if you are offering something to the god it should be done wholeheartedly loaded with love and care. An idea which I am very fond of. Thus the bhog was prepared by the members of the family. My aunt (pishimoni) leads this contingent of preparing the bhog and I used to be an enthusiast in participating in this department right from my childhood. [May be that's how I know how to bring taste in food!] We used to prepare all sorts of sweets that are offered during the puja including 'tiler nadu' (sesame & jaggery balls), 'narkol nadu' (coconut & jaggery balls), 'mowa' (made with puffed rice and jaggery), 'Payesh', 'luchi', 'sandesh' and many more. It used to be quite a hectic morning preparing all of these in separate gas stove and utensils which are used only during Pujas! The Puja used to start as soon as the 'thakurmoshai' arrived with the 'Narayan shila'. Offering anjali and sitting infront of the jaggya/hom used to be my favorite times. Since we are Bangals, [those who relocated to western Bengal after the partition in 1905], our special lunch for this day included Illish (hilsha) and many more fishes apart from other Bengali delicacies.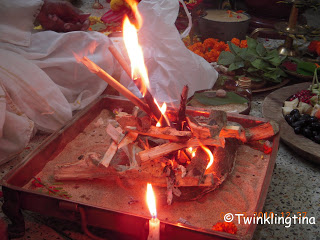 Saraswati Puja is also considered the Valentine's Day of Bengalis. The scope of interaction increases among boys and girls as the puja is celebrated in schools with one school inviting students from others. Unfortunately I studied in a school that followed the Brahmo Faith (those who don't believe in idol worshiping) so missed the fun of celebrating either the Puja or the Bong V-Day!

🙁

That was in fact well compensated by the huge family celebration that I had in my home.
Now since I am almost in the other extreme end of the country I can't be a part of the celebration. As I spoke to my mom and realized they were all getting busy in buying fruits and sarees for the puja (to be offered to the goddess). I thought how can I not offer my prayers to the one who always helped me before the exams and during the exams! I remember how I used to plead her for good marks all throughout my student life till my masters and she always came to my rescue! So a day before the puja I decided there is nothing that can stop me from bringing her to my home. I will celebrate Her home coming in my own little way in which ever way I can. Support came from my mom, husband and my mother-in-law who encouraged me to do the puja. Mom's words gave me the relief that when I am offering my prayers with my heart and bhakti She will never mind even if the puja was small or not complete with the complex 'mantras' and 'jaggyas'.
So I ran, after the office, to the local market to get fruits and flowers. Thankfully Indro has an idol of the goddess with him otherwise I don't know if I would have got that here in this city. However, in the local market I saw many helpless Bengali couples who were searching for all the particular things that are required for the elaborate puja. Once back I started with making 'payesh' – a sweet item made with milk sooji and sugar and I added jaggery. I knew I'll never get the time to do that in the morning on a weekday before office. Next was 'alpana' or rangoli which is traditionally done with rice paste I chose to do it with rice flower. I missed doing all these without the family but still was happy in my heart that I am atleast doing it. Indro also helped me here and there in filling the designs with the yellow flower petals.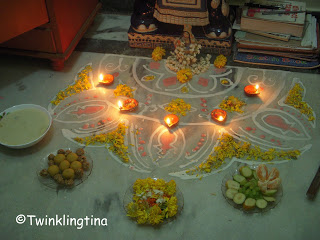 I had to compromise a little on the haldi before the morning bath. I never found 'Kancha holud' in the market for which I had to be content with the normal turmeric paste and mustard oil! At 7 in the morning I was thinking since I am married now and have a cupboard full of sarees (which I never wear normally) I should wear a yellow one for the puja. Somehow I pushed Indro to go for a bath at that time when he walked around the house half asleep

🙂

. We finally lit the diyas, laid out the fruits, sweets and 'tiler nadu' (which I surprisingly got in the store), 'payesh' and offered our puja. I was quite surprised that Indro knew some of the mantras. I just told Her in my mind 'I am welcoming you in my home with my heart don't go by the arrangements just listen to my prayers and keep coming to us every year'.