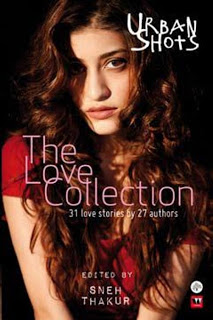 Love the most subtle yet the most powerful emotion is a celebration in itself. It's rare if anyone has never been touched by love – love of parents, sisters, lovers or even the little pet! Love stories, likewise, are enthralling. A happy love story can leave you content where as a sad end might keep you thinking for long.
Pride & Prejudice has been my favourite romance classic till date – always seems to leave you on a high. And when you steer your eyes from the Mills & Boons and Erich Segal you chance upon 'Urban Shots – The Love Collection' – a new and refreshing book by a host of Indian budding authors.
Unlike other novels these short stories are real, urban and closer to earth – stories that you can imagine happening next door or even can relate with yourself. Edited by the talented
Sneh Thakur
, this book is a collection of 31 love stories by 27 authors. From juvenile sweet love to matured bolder love this book contains a myriad moments where you can feel and absorb love. Unlike the regular 'happily ever after' you can read some off-beat stories for a change and enjoy the shades of grey and that's what makes this different from the crowd.
Some of the stories which I quite liked were these out of the box ones where you can't predict from the first few lines. 'Making Out' by Hina Siddiqui (also the editor's pick) is as straight and blunt as the title explains but also unfolds some hidden truth and the grey shades of society. My favourite has been 'Twisted' by Lipi Mehta, you will find it simple until you read the last words, and yes that's a great twist to make a different love story all together. 'Beyond Reasonable Doubt'is very rustic and you can identify with the characters and their emotions very easily. Stories like 'Pause, Play, Rewind' by Shoma Narayan and the deep conflicting 'Shahana and Shamim' by Sangeeta Bandopadhyay feels like a mini screenplay which you can imagine unfolding right in front of you. 'Strangers' by Ahmed Faiyaz has been gripping and spooky and I applaud him for that. 'Reality Bytes' by Anitha Murthy definitely is touching and heart breaking and one story which you will love to read. It's a must read in this book. Other stories worth commenting are 'High Time' by Kailash Srinivasan, 'The Jhalmuri Seller' by Bhabani Shankar Kar. 'A Girl can Dream' by Ayeesha Khanna is simple yet beautiful.
There are some stories too which didn't go that well with me for may be the percentile factor! 'The Girlfriend', 'The Girl who was too Loud', 'Written in the stars', were nice but predictable for me.
It was a satisfying read for me, in fact I am happy that I finished it off within a week even after a mad schedule at work. Some of the stories were captivating and I read them almost like how I read a thriller. After a long time I got to read the mixed emotions of love, penchant, desire, guilt, anger, blues and so many more. To read minds of young and budding authors is always pleasant. And it feels closer to you when you can start relating stories with yourself and the others whom you know who might have gone through similar situations.
My thoughts – Everyone needs romance, feel some love – all kinds of it.
I thank
Blogadda
for the opportunity to review this book.
My rating – 3.5/ 5
Book – Urban Shots – The Love Collection
Edited by – Sneh Thakur
Publisher – Grey Oak in association with Westland
ISBN – 978-93-81626-47-4
Price – INR 199
Pages – 226
Gengre – Romance, Fiction
This review is a part of the Book Reviews Program at BlogAdda.com. Participate now to get free books!