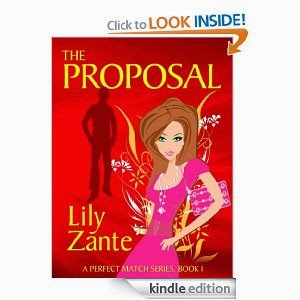 Now for last few weeks I am hooked on to the Kindle Cloud reader and the Kindle app on my phone. Ever since I planned to take public transport my time for reading has increased, thankfully. I came across this chick lit light romance fiction on Amazon and it was free to download, so I thought of giving it a try. At the end I was really overwhelmed so thought I might as well review it here.
Now little warning for you guys – it's adult and mushy romance, so if you don't like such stuffs then you may avoid. But who doesn't like some mushy romance sometimes?? "The Proposal" is the first book of A Perfect Match Series. It's followed by a prequel "Lost in Solo" and the final book is "Heart Sync".
Nadine is an independent & fierce career woman who has always weighted her career above anything else. While hosting a bachelorette party for her little sister Nadine encounters the handsome, well-built and suave Ethan Adams who happens to be a male stripper. Nadine hires Ethan for a weekend to play a pretend boyfriend for a work convention that she has to attend with a partner. Now that she didn't have one she couldn't just go there without anyone in her arms.
During the weekend Nadine discovers Ethan was stepping in for a night as the stripper in place of a sick friend and he actually is a male escort! As if the stripper part was not enough!! But she is attracted to his brains and brawns and how he charms everyone around. Ethan on his part, is equally attracted and amused with Nadine as how a pretty face like her is not the conventional girl like. He gives Nadine the due respect and sleeps in his sleeping bag in spite of sharing a suite in a five star.
Both are attracted emotionally towards each other but are in dark on what the other one thinks about, and at the wrong time Nadine finds him shirtless with another woman and misunderstanding crops up heightening the tension between them. Sandra, Nadine's catty boss at the ad-agency figures out about Ethan's stint as an escort and whips up a whirlwind at her workplace. It takes another friend to come and explain the situation and Nadine wakes up to reality after some agonizing and lonely weeks and gives Ethan a visit at his Studio. Mr. Adams is not a sleazy stripper or escort he is an artist. With confusions cleared up you have Nadine and Ethan together through their passion filled colorful nights and romantic times.
Okay… now did I tell you most of the story?? Well its okay I guess, since it's not a suspense thriller or anything of that sort. It's a mushy romantic Chick Lit read. But hold on… it's not just another read. The way the characters are built are superlative. I loved Ethan so much that I could fall in love with him. He is handsome, he is suave, he has the perfect physique he has the restrained look (that's what you visualize as you read), a power house of emotion – such a hero material. I got so engrossed in their love story that I couldn't wait but ordered and read the sequel. I will review that later. Ethan for me is such a real character.
As much I loved Ethan and Nadine and got pissed of the lady on why she couldn't trust her man, I equally hated Sandra the catty boss for being such a bitch. Now the end of The Proposal gets a little predictable, but which romance fiction I not. We all know the hero has to get his lady, and a hero like Ethan damn well should get his lady!
Now coming to the writing style – I think the book was for the British audience and later changed for the US. The characters are American and stay in San Francisco and they speak British words. But I am not complaining. A good read is a good read. I am completely overwhelmed with this read you might have realized that by now so I will pass the little grammar glitches as well… haha
Lily Zante is a romance author with several romantic fictions to her credit. In between bringing up three kids she writes romantic fictions. And after reading The Proposal & Heart Sync you have a new follower in me. You can check out about her books in her website here.
I usually don't rate a romance genre so high given that I absolutely love thrillers and mystery. But I couldn't help but rate this one high because I freaking loved it. GoodReads didn't allow me a 4.5 so I had to rate it 4 there.
The Kindle edition is available on Amazon for free and you may download it here.
Product Details: (From Amazon.in)
File Size: 1865 KB
Print Length: 144 pages
Simultaneous Device Usage: Unlimited
Publisher: Lily Zante (January 12, 2014)
Sold by: Amazon Digital Services, Inc.
Language: English
ASIN: B00ARFOGQ2
Text-to-Speech:

Enabled

Lending: Not Enabled