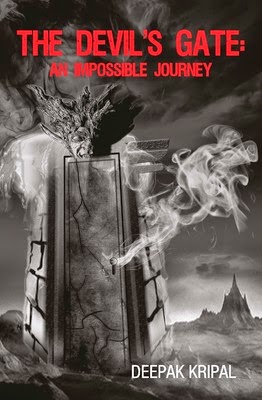 Here's the second book that I read over the long weekend. It's called The Devil's Gate by debutante author Deepak Kripal. It's an adventure fantasy novel with a social message. So let's see how this read of mine has been.
The story involves these characters called Katy, Dug & Billy a cat a dog a bird who are sidelined by the humans. Katy the secret agent of United Animals is entrusted to with the mission to travel to the mysterious island – Five Hundred Graves – which is visible only on a full moon night and is under the control of demons. Katy and Dug do not get along well, because of their obvious differences. They need to get permission from the demons for cohabiting in the island. How they reach the island, what is the game by the UA chief have a little thrill offered.
Debutante author Deepak must be someone who really loves animals, stray ones specially. Because the thoughts with which he has written this novel are quite genuine. Yes we as humans are quite intolerant about other living organisms though we might not admit it. He has expressed the pains and emotions of the animals beautifully. There are sparks of thriller and suspense but I felt it went too long.
Writing style is a little too long with long sentences and is not quite fast paced as you would expect in a thriller. The thought is quite interesting because you don't see a lot of main stream writers delve in such a topic so a loud shout out from my side to the author.
Deepak Kripal is a doctor by profession and a writer out of passion. This is his first novel. He is a well known blogger in the Indian Blogosphere who write poetry at The Original Poetry. SO he is yet another blogger turned author. I am hoping I take that plunge too someday. Should I?
My Rating – 2.75. I think it will be enjoyed by the teens and tweens more.
Book – The Devil's Gate: An Impossible Journey
Publisher – Lead Start Publishing
—————————————————————————————-
The Book was sent to me by the publisher for a review, the views written here are entirely mine and I try not to be biased.
———————————————————————————————