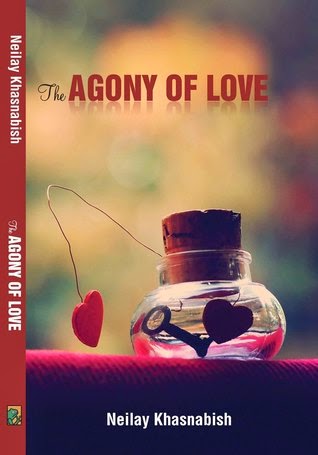 Hello people… long time no? Yeah I was taking a break after the month long challenge… What all did I do last month – had some good time with my mother in law who was visiting us, hosted some parties at home, went shopping, went for some trips and have been following the elections and rejoicing our new PM. So naturally didn't quite update the blog. So all of May I made merry now on June 1 I am back to my blogs. I know I am weird but that's how I am!!
But now that I have sat down to write, I am thinking of listing down what all I want to write – there are some book reviews which are coming up, there will be some travel posts also and I will continue with the short fictions. Good enough? I hope they are.
This post is going to be on a long pending book review of a romance fiction – The Agony of Love by Neilay Khasnabish. This young author had sent me the book some time back and I was (am still) in a mood for some romance genre so this was the perfect one for the moods.
So let's see how this one was.
Young Srijan Ghose lands up in Delhi looking for a job. He falls for the beautiful Priyam Majumdar, a DU student, who stays in the neighborhood. She inspires Srijan to find that hidden quality in him and he pens down his maiden poetry 'Fragrance' as a tribute to her beauty. While the family wants him to take up a job in Guwahati, Srijan wants to be with Priyam and decides against it. The decision is not taken positively by his brother with whom he was staying in Delhi.
Thrown away from the house he finds a job at a store as a salesman and continues writing poetries. It takes strange turns when he gets kidnapped, tortured and threatened to lose his life if he didn't leave Priyam and Delhi.
But his only aim is make his love for Priyam work.
Well aren't the love stories all same – boy, girl, family, and then the end? Well this one goes in a similar line but thankfully there's a thrill element as well, with the kidnapping of the protagonist. The author must be a close observer of nature or a poet himself to give us such descriptions of nature, flower birds et all.
My only complaint would be the editing and proof reading too. I am finding these things lately in several books. Sometimes when you do not do a good proof reading you end up with a character being called by two names which confuses the readers.
The writing style is good with simple vocabulary, the author has made good use of metaphors and I liked the part where historical incidents are described. And also the snippet of the book says "

This story in the guise of fiction is the offshoot of firsthand experience of life

" so quite an adventure.
Ohh one more thing – I don't always comment on the cover of a book because I don't judge them with it but I quite liked the cover of this one. It's cute.
This is the debut novel by this young author.

Currently, he is settled in Bangalore, and working as a Research Engineer. His scientific and creative writings were published in 'The Assam Tribune', 'The Sentinel', 'Asomiya Khabor', 'Bigyan Jeuti', 'Unish Kuri', and 'Sonajhuri'. He has published a number of research papers in reputed journals.

Now he is working on his second novel on the backdrop of Kaziranga

[This info is from Good Reads]
My Rating 3/5
It's an okay one time read
Author – Neilay Khasnabish
Publisher – Leadstart Publishing
———————————————————————————————
This book was sent by the author. These are entirely my own views and I try not to be biased while reviewing.
———————————————————————————————