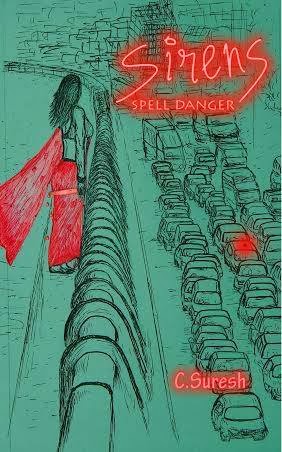 Hello Everyone, I am going to review a cool thriller today written by three awesome blogger turned authors. Yes that's why I am so excited about it some of them I know personally and I am so happy that they are going great guns in getting themselves published. This review is going to have a different format because it's not just one story but as you can guess it has three different stories. So let's see how the sirens sound and how dangerous this one is.
"Femme Fatale" is the First story by C Suresh and I love the way he chose to open his story – "How could I have known that merely turning to ogle at a lovely girl would lead me into so much danger?" The author makes it quite clear what you are going to expect in the next few pages.
We have Tanyawho is also known as Ayesha who of-course is our femme fatale and we have Vicky the newly selected IPS officer. Vicky finds himself in difficult situations and on the verge of his end due to the different situations and incidents caused by our femme fatale. His trip to Bangalore goes horribly wrong and he is faced with the secrets of socio-political world.
Femme Fatale is a fast paced and suspense filled thriller and Suresh has done a wonderful job. His style of story-telling is something which you should read. Being from Bangalore no wonder he has introduced the city in the story. You can never miss the strings of wit when you read his works, in this or in his blog posts. He writes fiction, is a winner of many blogging contests and also is an active trekker. You can jump to his blog here.
The next story is "Bella Donna" by Radha Sawana and there is a lot in that title. I loved the intricate plot and the use of forensics to make it even interesting. While reading I thought she must have done a good amount of research but then when I read about her I figured out her background in chemistry and thus realized her interest in weaving the story in this fashion. It's a wonderful thriller and one of my favorites now. Radha Sawana is a multifaceted blogger. Do check out her blog Entropy.
The next one is "Bellary"by Karthik L. Set in the backdrop of the famous North Karnataka district Bellary this crime tale has everything in it – politics, mafia, mythology, mystery. There are certain parts which I wish were dealt with some more care but none the less the author's story telling way is simple and easy and you find it quite enjoyable. Karthik L is one of the finest science fiction I know and his blog is a super blog. Do check out his blog and you will like the series I am sure.
My thoughts – I think it's a good thriller by Indian authors and quite enjoyable.
Book – Sirens Spell Danger
Author –
Suresh Chandrasekaran, Karthik L, & Radha Sawana
Genre – Suspense Thriller
Published in – December 2013
You can download it from Amazon
———————————————————————————————
This kindle edition was sent by the author. These are entirely my own views and I try not to be biased while reviewing.
———————————————————————————————