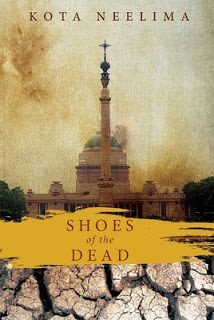 Read a book (thanks to Blogadda) which is very different from my kinda books and the very first time (for me) a political socio fiction.
There are times when you know, at the back of your mind, about incidents which keeps happening in the society and we tend to overlook it in the daily chores of life.
But again who likes facts & figures which keeps cropping up on the newspapers or journals or the big discussion sessions on various news channels (not that these banters and loud screams always make sense!) the very idea of turning from statistics and figures to fiction is worth applauding. So here goes my review.
Failed crops and farm debts compel Sudhakar Bhadra to commit suicide. His widow and family are denied of the compensation by the government committee citing the cause of suicide as alcohol rather than debt distress. His educated brother Gangiri who serves as a teacher decides to quit his job, fight this injustice and bring the system to order.
Back in Delhi the MP Keyur and his powerful politician father has their own bureaucratic political plan which believes in only political gain. The corruption is present from the grass root level from the moneylenders, to powerful farmers, from bank managers to the local MP – all vying for their interest for their profit. Gangiririses up in this situation as the crusader with his perfect strategies and he is assisted by the no-nonsense journalist Nazar.
One of those rare fictions which really compel you to think and introspect on what is there is the truth and is the fact. Every now and then we hear about farmers committing suicides in Andhra, in Maharashtra but do we really feel for them? Do we really care how their families are after they have lost their sole bread earner? Frankly speaking we don't. We all know the murky waters of politicians and the government but don't realize the potential every one of us has when we are together.
This is a very deep novel with a very deep reality at its core. It's neither racy nor fast paced or with high drama but is extremely detailed and has meticulous characterization.
Kota Neelima works as Political Editor with The Sunday Guardian, and is a research fellow for South Asia Studies at the Paul H Nitze School of Advanced International Studies, John Hopkins University, Washington DC

. Her previously published works include Riverstonesand Death of a Moneylender. You can read more about her here.
My Rating – 4/5. It's a must read. Hard hitting, no nonsense, tragic but worth a good read
Genre – Political Fiction
Publisher –

Rupa Publications
—————————————————————