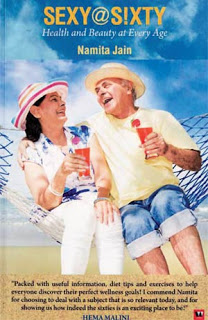 Sexy at 60… sounds weird?? Hell no… there's no age bar in being sexy, there's no restriction in celebrating your life and that's exactly what I came across in this little book which turned out to be a guiding path of health secrets. Though the supposed target audience is the middle aged, I think it's very helpful to guide you at any age for a better tomorrow… rather a healthier tomorrow.
Written & compiled by the wellness expert Namita Jain this book can be very handy for you if you are leading a sedentary urban lifestyle where you slog at your work place sitting in front of the work station for long hours (just like me). After reading this book you will get numerous reasons to chuck the fad diet plans and start eating right – at least I am motivated enough to alter my lifestyle for a healthier & fitter me.
The book is written across 17 chapters each of them dealing with specific problem areas. It covers issues like how not to be the couch potato to mastering your metabolism to even more serious problems like Menopause, Prostate, Arthritis, Stressetc.
To start with identifying you as a couch potato or not I was shocked to find myself almost on the verge of being one! Yes many of us lead a sedentary lifestyle with no time for self after a tiring day at work. Who takes the flight of stairs when every building has more than one lift? But ultimately we are the one who lose out.
But there are simpler solution provided by Namita – where one can take up something that they like gardening, dancing, swimming, or even cooking! I never knew cooking can burn 148 calories/hour, or cleaning the house at 207 calories/hour yes definitely they are lower than swimming or running but then cleaning the house at times for burning calories seems to be a good idea.
Some of the chapters which got me very interested were Metabolism: Master it! The secret to a good metabolism to burn the calories seems to be eating food! I do skip breakfast at times and that's a sin, I know, but then you are always running in the mornings. She suggests one should eat breakfast, pre-lunch snack, lunch, pre-dinner snack & the lightest dinner. Eating right with moderate exercise seems to work wonders.
Information on stress management is something that is going to help definitely. All of us are stressed for something or the other. There are different breathing techniques mentioned that help is reducing stress levels.
The next two chapters on correct posture & remodelling the body are very helpful. Working for 8-10 hours at work in front of the computer & again laptop at home has definitely taken a toll on my posture. I am hoping the exercises mentioned will take care of correcting my posture.
It's packed with useful information on calorie counts of meals, illustrated exercises and some useful recipes too. I don't read much of the health related books but as they say it's never late. And I am happy that I am motivated now to add some more jogging & walking to my swimming schedules. It's going to be difficult to cut down on all the things that I love – read sweets, desserts, cakes, ice creams… but yes its better I start controlling that for a healthier tomorrow.
My Thoughts – If health is wealth I better insure that. And if I am to believe Namita then it's not much that the health is asking – just eating better food, exercise, water and rest will suffice.
My Rating – 3.5/5
Book – Sexy @ Sixty – Health & Beauty at every age
Publisher – Westland Ltd.
Genre – Health/Wellness
——————————————————————————————-
This review is a part of the Book Reviews Program at BlogAdda.com. Participate now to get free books!
——————————————————————————————-