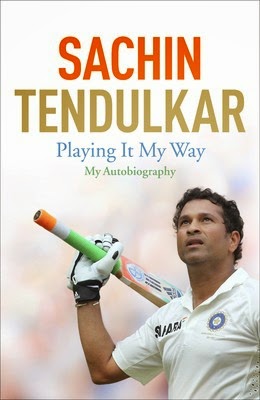 Our Master Blaster has an inborn talent and habit of creating records in whatever he does – be it the number of centuries, number of test matches, number or runs or even breaking all pre-order records with his autobiography. Now those who know me, from childhood or even now, you know how big a worshiper I am of Mr. Sachin Tendulkar.
All I have for him is love, affection, adulation and respect of the highest order. So when he announced on his FB page that his autobiography will be launched on 6
th
November 2014 I had pre-ordered it so that I get on the day of the launch. And I finished it off in a day and a half. But see how lazy and sloth like I am that I am writing the review today almost a week after I read, in fact it was launched last Thursday if I am not wrong. Anyways let's get to the point.
What I was expecting from the book Playing It My Way was the Sachin Tendulkar story, the behind the scene tales, and loads of humility – just how he is. You know his life actually has been an open book. He has been in the media right from his school days, his Harris Shield Days, his Ranji Days, so you might think what do I read more about him? But hold it guys – it's the most straight forward and simple story of the KID WHO WENT ON TO BECOME GOD. – This is not in the book, but that is the reality.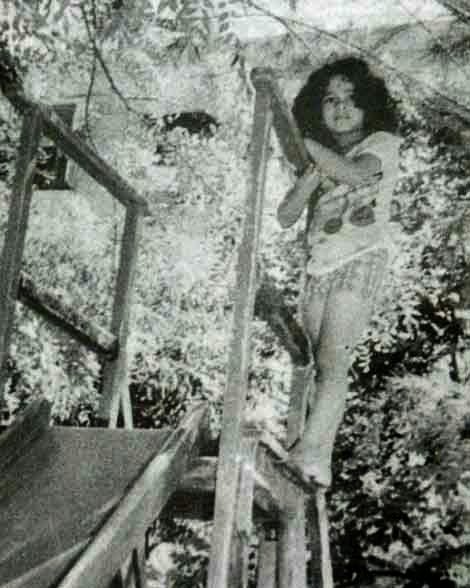 Playing it My Way starts off with his childhood, his early days, his naughtiness. When people were busy watching movies little Sachin would be busy on tree tops plucking mangoes with friends or locking people out in their homes. Well I don't quite know how he used to escape a good earful after these. He mentions as a child he was scared of his eldest brother Nitin. Whenever he would not listen to his mother it was Nitin's duty to get him back home from some mischief. Not always has he been this obedient righteous man that we know of him today. As a child he pestered his dad to get a brand new bicycle because he wanted to show off to his colony friends. And while showing off first day he met with an accident and had to visit a plastic surgeon to get stitches above his eyes! I have read this one anecdote long time back in some book, I don't remember which book – while coming back home from school he spotted a frog at some water logged road. He wanted to take that frog home so trapped it in his lunch box and conveniently forgot about it after sometime. Now you can guess what must have happened when his mom went on to clean his lunch box!! Yes that is definitely being the king of naughtiness. That his brother Ajit took him to Ramakant Achrekar's cricket coaching camp is legendary, but many might not know that it was done to keep him away from any other mischief.
The book also gives away a side of Sachin that he had kept private for long. Neither the media or anyone else could dig out much about his love story with Anjali, one great woman whom I admire and respect. It was Anjali who 'chased' (that's how she described it) him at the Mumbai Airport making him blush. But yes Anjali has been 'the best partnership' for him and I want this partnership to go on and on.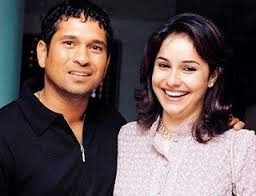 The Best Couple
But the portions of the book that amazes you is how he became the great player he is, travelling and playing across England in county cricket. Such was his passion for the game that he drove extensively in a day to play a match and drive back again right after a match to get back in his county match! Resulting in taking 10 second naps on the field!
As you go along you realize he is nothing less than a soldier. Injuries, surgeries, rehabs, practices its all part and parcel of the game. His tennis elbow surgery was a pretty famous and talked about episode and we all know he underwent a surgery for that. But I never knew he had to undergo two groin surgeries, surgeries for fingers, toes and what not. All for keeping his body fit for serving the country at the highest level. And our hero has a habit of waking up from anesthesia too!! It comes across twice that he had woken up during surgeries from anesthesia only to enquire if they are doing it properly and he'll be able to hold a bat!
Some anecdotes that you just cannot miss in Playing It My Way
1.

Arjun, his son, doesn't like people criticizing his dad. Just after the debacle of 2007 World Cup Sachin asked him not to rise to criticism but all the wise words left Arjun when someone blamed him for India's poor performance. Guess what Arjun punched that fellow. Well I need to tell you Arjun, if I was there in your place I would have done the same if not worse. I have done it for long whenever people teased me with Tendulkar getting out on a low score.
2. Like Arjun Sachin also had a similar situation when he was a kid. Some girl had commented on how his mother looked. It didn't go down too well with little Sachin and he didn't think twice before punching her. Like Father, like son.
3. Sachin Tendulkar had an issue of sleep walking when young and it seems Sourav Ganguly was at the receiving end at the under 15 camp in Indore. Sourav claims he couldn't sleep with him walking around the room in darkness! I don't blame you Sourav
4.Indian players miss home cooked food the most when they are away on long tours. There have been times when they have asked Indians living in those countries to get them some home cooked food. Or not getting any food during Christmas & New Years day in New Zealand when every restaurant closed down! Ohh poor fellows
5.

Sachin Tendulkar can be in that TV show – Man vs Food. He actually has an award for conquering Harry's Challenge of the famous Harry Ramsden's café in Guisely, West Yorkshire. He polished off a giant portion of fish, salads and sides!!! Some appetite you have Master.
6.

As a kid Arjun refused to speak to his dad over phone whenever he was touring. He used to be so upset that he never took his call. And when he was back home Arju would cling on to him for 3 days straight! That's so god damn cute. I totally love his wife and kids.
7. How he videotaped his first sight of his daughter Sara in the hospital, and how he requested doctors to let him stay in Anjali's room in the hospital that night. He didn't mind sleeping on the mattress on floor. He just didn't want to leave his wife and newly born alone. Yeah he definitely is the Mortal God.
Now I can go on writing about these little stuffs that makes this book such a joy to read. But I must tell you by the time you are nearing the last chapters you might get very emotional – just like how you would have been during his farewell speech. I literally had tears in my eyes remembering his speech and the extravaganza surrounding his farewell test. It was sad and at the same time those tears were of pride. Yes I have been following him worshiping him as a kid and he will always be my all time hero. The journey tells you what makes him so humble – the life's lessons he learnt – they are inspiring.
There's a chapter named Endulkar – where he describes how he was feeling when the media was after him stating he is failing, he is not performing etc etc. But Sir, Legends never retire and Gods never cease to exist!!!
Overall it was the Sachin experience that I was looking forward to – the Sachin story from the horse's mouth. Playing it My Way will have a special place in my book case just like how I have special places for Sachin's gloves & signature mini bat. These are my collectibles of Sachin, the God. In fact, that mini bat has signatures of the entire Indian Team. It was taken long time back though!
My Rating: Any guesses??? A big whole 5/5.
BOOK DETAILS
Publisher
Hodder & Stoughton
ISBN-10
1473605202
Imprint
Hodder & Stoughton
Number of Pages
496 Pages
Publication Year
2014
Language
English
ISBN-13
9781473605206
Binding
Hardcover
Author
Sachin Tendulkar &

Boria Majumdar




Price: 800 INR