There's no way you can rest in peace if you have a toddler in your life! I can vouch for that because I am a mom to an almost two-year-old. This almost-two-year-old sometimes drives me crazy with his, what I call – the food pandemonium. So when I came across this book Picky Eaters – Guaranteed hack to make you happy, from the ongoing Blogchatter Ebook Carnival, I knew I had to HAD TO read it.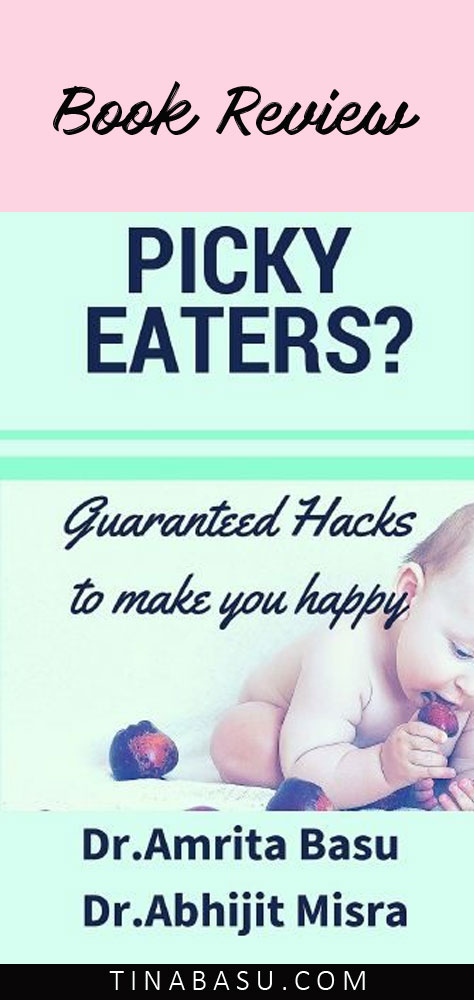 I don't even know if I can call my son a picky eater! He is going through the I-hate-food phase and I think he's just happy without food and that is sending me into some panic mode. I am always asking every mom I meet – How do you make your child eat? I was looking for some guaranteed hacks from experienced moms of picky eaters. And voila here comes Amrita's book – not just she is an experienced mom of a picky eater she is a doctor too. And this book is jointly written by Dr. Abhijit Misra, her husband, who is an experienced pediatrician and professor in Medical College!  It's like some sermon from God for me – don't worry child, he will eat!
About The Book – Picky Eaters? Guaranteed Hacks to make you Happy
Dr. Amrita, in her book, says the power is in the hands of the mother and if the baby is a picky eater it is only by making food a fun activity you can change the habits of the kid. She explains how the mother's diet during pregnancy and her breastfeeding days have a huge impact on how the toddler or preschooler is feeding. The book has the ultimate guide to help your child eat – something that I needed very badly.
What did I like about the book?
Dr. Amrita and Dr. Abhijit are not only involved in the medical profession they are also parents to a five-year-old kid, who happened to be a picky eater. So this book comes with their personal experience too – something that I can relate too. I know exactly how it feels when your kid refuses to eat or is just not interested in food. I am going to use all of the mentioned tricks and hacks (and pray) so that my son starts having a proper meal.
What could have been better?
I wish the book had some specific food or recipes mentioned that I could use for my toddler who likes only crispy food. I, as a mother and a food blogger, am very conscious about the kind of things he eats. I try to make things crispy for him the healthy way by baking or air frying. Maybe some detailed nutritious food recipes for picky eaters would have helped even more.
About the Authors
Dr.Amrita Basu is an ENT surgeon, teacher in a medical college, and blogs about health, wellness and her journey as a mom blogger.She is an avid balcony gardener and a voracious bookworm.
Dr.Abhijit Misra is a pediatrician, teacher in a medical college and the rock solid support behind  healthwealthbridge.com. They are the co -authors of this book and partners in real life.
My Thoughts
This is a book that I will recommend to every mom if you have a toddler or a baby who is making your life a hell by not eating good. Understand the root cause, try the hacks to make the food journey better. I like how simple the book is. SO if you are looking for practical information – this is the book you want.
Download Picky Eaters? Guaranteed Hacks to Make you Happy
My Verdict – 4.5/5