Parenting Tips and Tricks is an eBook for new parents who are still clueless about how to become a good parent.
Motherhood is a blessing and when you become a mom for the first time you are on cloud nine – all you can think is how cute and sweet is my baby, the best baby ever, this is the baby who will do no wrong, you are so grateful for the baby that you will never scold him or her. Don't worry, everyone goes through these emotional upheavals once you become a mom, blame your hormones for it. I went through that phase too. I thought baby's first month is going to be crucial and the most important time for me with all the feeding, nappy changes, sleepless nights. But now when my son is a toddler I look back and feel it was the easiest part! The hardest challenge is now and the coming years because of the basic question – Am I going to be a good parent? What is parenting, anyway? How to do right parenting? Pretty legit questions, okay? Specially if you are a first-time mom, staying away from your family. So when I came across this eBook Parenting Tips and Tricks by Deepa Gandhi, as part of BlogChatter eBook Carnival I was pretty sure I am going to read it.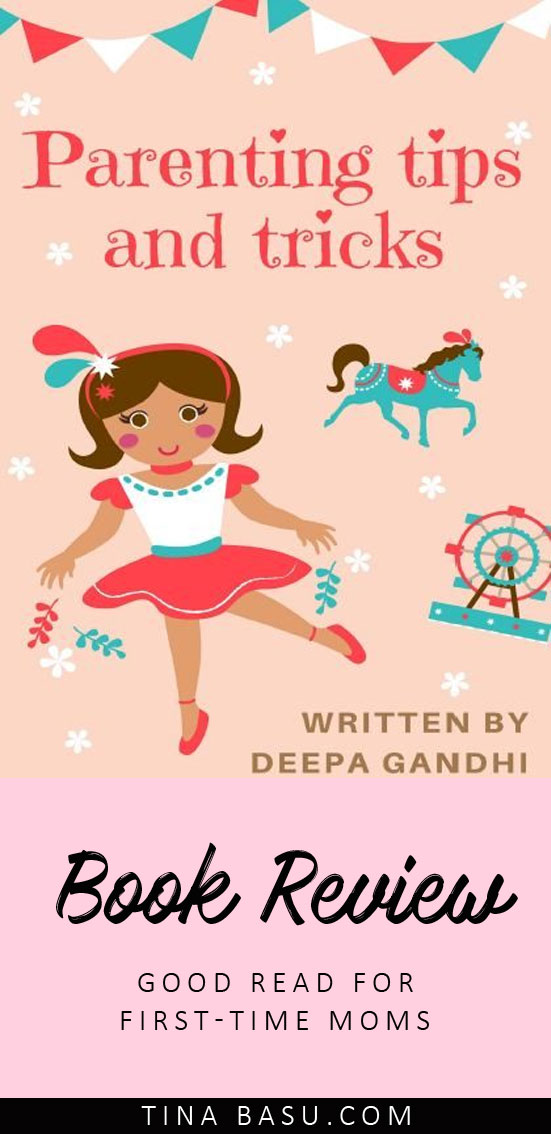 Now that I have read it let me share with you what I feel about the tips and tricks that Deepa has mentioned.
About the Book
Deepa, a dietician, by profession is a mom to two beautiful girls and she says, she has learned all from her experiences with her girls. I firmly believe experiences are the best teachers – much better teachers than textbooks! The book starts with a very interesting topic of Affection. She explains, how much affection is good. I have seen some moms who are so very over protective with their kids that they don't even let them on the ground or let them walk because the dirt on the floor (read monstrous germs) will make the baby sick!! I am not from that group, thankfully and when I come across such people all I can do is make weird faces. The book says,
"Letting go doesn't mean, you don't love them, sometimes it's important to take a step back and set them free"
I am a supporter of this thought. I have been questioned, lately, from every quarter, on my decision to put my son in a playschool for two and half hours when he isn't two yet. Why exactly can't i? My son has self-learned numbers, shapes, colors from YouTube, TV etc why can't I let him learn or socialize with other kids? I believe in him and  I don't want the feeling of competition to get in my head or in my child's head so soon. That's what Deepa explains in her book.
The book is divided into twelve chapters that deal with everything from the feeling of competition, to food and nutrition to temper tantrums and of course the unwanted pressure that we as parents are guilty of putting our children into.
My Thoughts on the eBook Parenting Tips and Tricks
I have loved reading Parenting Tips & Tricks, specially the Food and Nutrition chapter. I am in fact reading so much of toddler food habits and how to make picky eaters eat that I notice them by default. I am going to try everything that Deepa has mentioned in her book and hope and pray that my little one starts eating like a human and not like a bird! (Birds might eat more, TBH). I'm also following Amrita's Guaranteed Hacks on Picky eaters.
About the Author
Deepa Gandhi is a post graduate in Foods and Nutrition. She is a freelance Dietician and a writer in many fields like parenting, health care, and travel. She shares her experiences as a mom and as a nutritionist in her blog http://www.kreativemommy.com. She also enjoys teaching dance to small kids and ladies. She has a wealth of experience in choreographing for different events. As a mom and as a teacher, she is passionate about everything creative. She tries many meaningful activities that are engaging, and always fun for kids. Deepa traveled a lot after marriage and now stays with her husband and two daughters in Bangalore.
My Verdict – 4.5/5
Moms, if you are as clueless about parenting like me, and want some Parenting Tips get this book for FREE here.