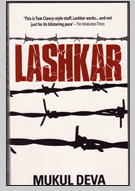 I am an absolute fan of thrillers as I had mentioned here previously. Most of this thriller space in my bookshelf is occupied by Dan Brown, Tom Clancy, Robert Ludlum and some more celebrated authors but today I can say I have come across a fast paced and an action packed thriller by our very own Indian author Mukul Deva. I think it's the first Indian Thriller that I have come across.
This thrilling tale takes you through beyond the untold lines and illustrates the less discovered world of terrorist camps across the border. Since it comes from the ex-army man you don't have to play with your imagination much. To know more about him you can check his website
here
.
The story starts with a fictional account of series of bomb blasts in Delhi which is masterminded by people across the border. Iqbal, the protagonist, is among the many unfortunate misguided young bloods from India who are brought into this fiery path of Jihad by their religious leaders. He along with groups of boys from India are taken and trained in the various terrorist camps in POK under the guidance of big bosses of the neighboring army.
When he returns to his base in Lucknow after his training he faces the cruel shock of the death of his mother and beloved sister in the Delhi blasts which was carried out by his jihadi group. Faced with the brutal twinge he starts to follow the dictates of his conscience and starts planning his revenge against all of those who are responsible for misguiding young people and running the terror factory.
Apart from the story of Iqbal the most intriguing part in the book, for me, was the response and retaliation from Indian Government as an answer to the repeated terror attacks on our land. Deva, gives a brilliant description of the vengeance by the Indian Army. His depiction of Force 22, which I can make out is an equivalent to the US Marines & Seals, is breath taking. How I wish our army could actually take up steps as described, I am sure we would be in a much better situation than our 'handing-the list-of terrorist-names' stance.
'Lashkar' offers the much required adrenalin punch for a thriller and I am quite impressed with the way it's written. It was quite an engrossing read which compelled me to finish it off in three days flat, making me a little more sleep deprived! But I am not complaining.
I think I should also share a few facts which have an uncanny resemblance with reality. This book was written and published in 2008. It mentions the presence of Osama bin Laden in an ISI safe house in Pakistan and we all know what happened in May 2011. Similarly some more details are also mentioned in the book and I think it's time which is going to tell us if they also will bear resemblance or not. I read over the net that a movie is also on the cards.
My thought – A very nice and thoughtful read. I also came across its sequel 'Salim Must Die' and I am currently glued on it.
My rating – 4.5/ 5
Book – Lashkar
Author – Mukul Deva
Genre – Thriller
Publisher – HarperCollins Publishers India
Published in – 2008
ISBN – 978-81-7223-665-6
Pages – 371
Format – paperback