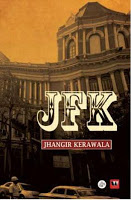 When you have a thriller or a murder mystery with you, you know you can never get bored. This is definitely my favorite genre because they keep you engrossed most of the time. And when you have two back to back murders in the first 5 minutes then I am really happy. JFK (and no it's not related to John F Kennedy) opens up with two murders happening at two different places in the City of Joy – Kolkata (yeah that's even another candy for me).

Superficially looks like two different murders but it's the same gun's bullet that killed both.

Jatin F. Karunamoi best friend of the murdered person Manish finds himself in a fix when he realizes the last work of Manish were to him which were 'Jatin JKF'… Aided with Montu, their long-time friend Jatin seeks to decode JFK and find out why his friend had to lose his life. With the city under the dark clouds of serial murders the pressure is mounting on them to even out the complexity. I will not spoil the thriller by telling you how he found or what he found
Analysis – Manish the unusual hero – is a well etched character. The different characters show different shades of white, black and grey. Friendship, complexities of relation, and complexities of society are what you are up for in JFK. Though I believe some characters could have been just done with.
I absolutely enjoyed the descriptions of places in the book, helps you to visualize with ease, and for me almost as if revisiting streets of Kolkata.
You figure out it's not just murders that you are dealing with there are deeper layers of society that holds mystery.
As for the debutante author, it isn't a bad start. Though the twists are turns are good at some point of time you feel you know what might happen next. Again it will be unfair if you try to compare JFK with a classic thriller book. So I will also treat it as a debut work. Thus, as a quick read it suffices. You can finish the book on the go – and i really like these kinds of books when you don't have to wait to long. You can read one of Jhangir Kerawala's interview here.
My Thoughts – It is a nice and easy read, with good descriptions. As a debutante author Kerawala has done a decent job.
Author – Jhangir Kerawala
Genre – Fiction, Thriller
Publisher – Grey Oak Westland