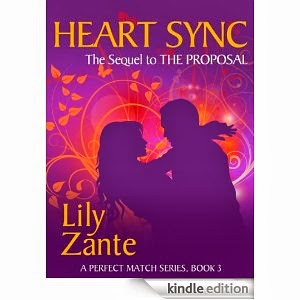 I had reviewed a romance fiction called The Proposal and told you how extremely overwhelmed I was with the story of Ethan & Nadine. You can read the review here. That was a free e-book on Amazon and I had downloaded it for a casual read. But I got so engrossed with the lives of Ethan & Nadine that I had to get the sequel to know what happened next. And I bought the e-book and finished it off in two sittings! Now The Proposal is the first book of A Perfect Match Serieswhich is followed by Lost in Solo which is a prequel to The Proposal. I was particularly interested in the love story of Ethan and Nadine so I skipped Lost in Solo and jumped into Heart Sync which is the sequel to the love story. Now let's see where Ethan & Nadine head to.
It picks up from the end of the first book, Nadine & Ethan profess their love for each other and are an item. Nadine is the ambitious career woman who wants to scale the corporate ladder and she works hard towards her goals. She is dedicated and passionate towards her work, as she is passionate about Ethan. Ethan on the other hand is an artist and a metal sculptor, and being a stripper and a male escort has been his resort in the times of recession when he got laid off from his day job. In between the passionate moments with each other, various misunderstandings creep in. Nadine gets an opportunity to travel to Europe for work to set up their corporation's new offices in Milan & Paris and it requires her to be away from Ethan for a month in Europe. Ethan isn't too happy with the proposal and thinks Nadine is not serious about the relation and her career comes first before him. Whereas Nadine thinks this is the perfect opportunity for her and her career. Ethan also immerses himself in his metal sculpture work where he is growing and is getting good response from exhibiting his work.
Once back from Europe after a month Nadine finds out she has an opportunity to be in Europe for a year this time and finds the offer lucrative enough. Her relation with Ethan becomes almost a question where either of them don't know if they are together or not. Ethan himself faces a family tragedy and is not able to give time to the relationship or Nadine, much like how he wanted to do, but is fearful in thinking if Nadine really loves him. But the passion for each other refuses to die out. He is on the verge of proposing but doesn't get the opportunity because of Nadine's career thoughts gets in.
After many a turmoil Nadine seeks what is it that she wants. Now does she want Europe, does she want Ethan and his love, will the career woman think a little different, you will have to read it to know it.
I had written in my earlier review of The Proposal that I almost fell in love with Ethan. Yes his character is so nicely etched that it feels real and very everyday life. And yes this book makes me love him even more, and for some points I hated Nadine for not understanding his feelings, for not being with him when he needed her most, or not trusting him. That happens when I get into the characters so much that I like thinking about them, or have a parallel story line in my mind.
There are many more things in the book which I'm not mentioning here purposefully, because I don't want this to be a spoiler. But yeah it's in the romance genre so it's supposed to be mushy and romantic. I love the little things that are described so well like the gift Ethan gives her, when they decide to exchange gifts, or how he takes out his anger on Nadine's ex-boss.
Lily's writing style is very natural and it's very easy to read and visualize your characters. If you read these two books and not feel Ethan is really a wow person then I'll be surprised.
Lily Zante is a romance author with several romantic fictions to her credit. In between bringing up three kids she writes romantic fictions. I have become a fan and want to read the new book that she is working on. After my last review of The Proposal I had emailed her telling her how much I liked her book, and her reply was sweet enough. I wish we could get some more of Ethan and Nadine, and had communicated that to her as well, like some starry eyed girl! You can check out about her books in her website
here
.
My rating – 4/5.
Quite high in my standards for a romance fiction, but I loved it, I loved The Proposal a wee bit more and so had rated it higher than this.
The Kindle edition is available on Amazon.
Details of the e-book (from Amazon.in)
·

Print Length:

269 pages
·

Simultaneous Device Usage:

Unlimited
·

Publisher:

Lily Zante (12 January 2014)
·

Sold by: Amazon Digital Services, Inc.
·
Text-to-Speech:
Enabled
·
X-Ray:
Enabled
·
Price : Rs. 245.89 or $3.97
——————————————————————————————————————————–
This Book is my owned Kindle Edition, and is not a sponsored review. I try not to be biased while reviewing whether its a sponsored review or my own copies. The views are entirely mine.
——————————————————————————————–
Linking this post for Write Tribes Festival of Words. Today's prompt is Book Review. I came to know about it only yesterday so You can find my posts from Day 3 onwards.
——————————————————————————————–