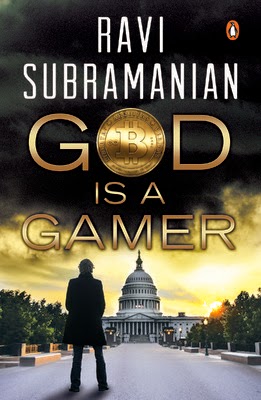 Aren't thrillers just amazing? Do you shuffle between books and read many books at a time? I do that somehow. Weird may be. Any ways last week I was reading the latest thriller by Ravi Subramanian – God is a Gamer. Last time I read his Bankster I was quite happy with it and was hoping the same for this one. Read on to know how my experience has been with God is a Gamer.
From the bestselling author of 'If God was a Banker' comes the first ever bitcoin thriller. 'God is a Gamer' is a world where money means nothing, martyrs are villains, predators are prey, assassination is taught by the Ancient Greeks, and nothing is as it seems.
Moving from Washington's Congress to Delhi's finance ministry, the beaches of Goa to the corporate boardrooms of Mumbai, this is Ravi Subramanian's most gripping novel yet.
The story starts off with a cold blooded assassination of a high profile US Senator Gillian Tan in Washington. Blowing up a bulletproof and armored car was surprising and Adrian Scott a FBI special agent is clueless about the assassin.
In Mumbai a phishing scam is wrecking havoc in NYIB. Crores of rupees are taken away fraudulently from the depositors and Swami the retail head of NYIB is left helpless. His CEO Malavika offers no help and downplays him at the HQ. Aditya Rao an ex-employee of NYIB who is also a founder of Indiscape, a gaming company, offers some solace and advice to Swami.
Young and talented Tanya is in Goa for a Nasscom event. She bumps into Varun unexpectedly one night while looking for hash. After a crazy night at beach he disappears leaving her waiting for him. Varun turns out to be famous drug dealer in Goa.
Various events and incidents unfolds through the course of the story revealing the world run by this certain virtual money called – bitcoins. What are bitcoins? Why are people getting killed? Who is playing the games? Who is the person behind the crimes? That's what God is Gamer gives you.
The book starts with an epilogue where the Mastercard and Visa honchos are debating over NPCS or the Russian National Payment Card System. You get to know how these people make money with every transaction. The story started off well with the assassination sequence. I like the cycle bomb thing. I somehow like reading on murders! But as you progress you get hosts of characters popping in and out and several unrelated incidents taking up a lot of space. Half way through I was finding it difficult to understand why so many things are happening and why such unrelated events. Yes it does throw a good information on bitcoins, social media, technology et all. But I found the end little predictable. Okay one more thing, I liked the cover design of this one. 
Ravi Subramanian is quite a famous author in the Indian thriller circuit. An ex-banker himself he writes his crime thrillers in the backdrop of banks and the financial world.

His books

 

If God was a Banker, The Bankster, Devil in Pinstripes

 

and

 

The Incredible Banker

 

are all bestselling titles.
He is an alumnus of IIM Bangalore. He is currently the head of a leading financial institution. He has won the
Economist Crossword Book Award
twice for his previous books.
My Rating: 2/ 5. It a good one time read over the weekend. He has written better stories.
BOOK DETAILS
Publisher
Penguin Books India
ISBN-10
0143421395
Imprint
Penguin
Book Type
Fiction Book
Number of Pages
324 Pages
Publication Year
2014 September
Language
English
ISBN-13
9780143421399
Binding
Paperback
This review is a part of the biggest
Book Review Program
for
Indian Bloggers.
Participate now to get free books!