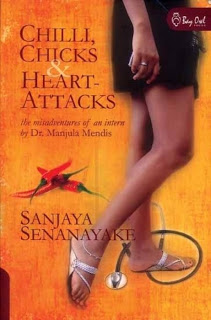 Chilli Chicks & Heart Attacks – what a title for a book… and with the cover design you almost start feeling it will be a chick book – naughty n sleazy (you know what I mean).Though it starts with a guy dreaming about making love to Hollywood Superstar and his mother happens to be filming all the action, it isn't all that.
It's the 'misadventures' of Dr. Manjula Mendis – the intern at a popular Autralian hospital (and if you are thinking Dr. Manjula is a lady then let me tell you – no he is a GUY!)
Dr. Mendis a Sri Lankan living in Australia joins the popular St. Ivanhoe hospital as an intern along with six others. This year long internship turns out to be a rollercoaster ride for Dr. Mendis both professionally and personally. As they proceed in their medical duties they come across different situations – some scary situations of dealing with the-not-so-friendly senior doctors (some are also perverts who like to stare at female interns – you-know-where) and some even scarier rendezvous with 'sugardadiphiled' ladies ( you need to read the book to decode this)!
Even on personal front Dr. Mendis finds himself in a fix with his over ambitious parents trying to fix him up with various ladies from 'influential', 'well-connected', 'rich' & 'rice & curry cooking' Sri Lankan families settled in Australia. Finally when he likes one all hell breaks loose.
It's really funny how the story starts – just when you start feeling cheesy it turns out to be a dream – I should rather say a nightmare – where you find your mother filming your bedtime actions which she wants to show the relatives!!!
Sanjaya Senanayake has made sure that this book, though written in a diary entry style, doesn't remain as another medical diary of a medicine intern. The twists and turns are nice and it ensures the readers are never bored. Be it the carrot contraceptive case or the pig's heart or unraveling the truth of a cheat this book offers you plenty.
From Hollywood celebrities, to football king, from hot love making to bonds of friendship you will come across many emotions as you read along. Though it's like a diary which captures the 'misadventures' of Dr. Mendis only by the end you can figure out the fiction part of it.
Sanjaya Senanayake happens to be in the medical profession and a Sri Lankan having lived in Australia & New Zealand – so is this book his biography? He denies it but you never know.
Things I liked – well crafted characters specially Dr. Manjula – who is as excited to be interning in a hot shot hospital and is as confused on his actions in personal life. And some good humor. Sometimes you want to just pick up a book and feel the fun while reading. It's worth giving a read.
PS: If you can't handle some amount of sleaze and cheesiness then you might not like it
Book – Chilli, Chicks & Heart Attacks
Author – Sanjaya Senanayake
Publisher – Westland Limited in India,
Perera-Hussein Publishing House in Sri Lanka (2010)