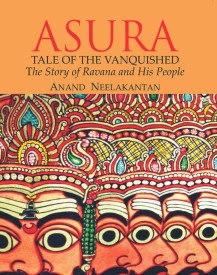 I had thought I had reviewed this book long time back. While going through my blog posts, I couldn't figure this one out. And I realized I had started writing this review and then left mid way and completely forgot about it. How could I do that I have no idea.
Apologies to Lead Start & the author from my end. I don't know the reason for this memory loss, but looks like I did forget, like the other day when I left the pressing iron on for the whole day!
Anyways, let me get on with the book review. If you are born and brought up in India, you can never escape the mighty epics of Ramayana and Mahabharata. Mahabharata still remains a favourite story of all times for me, because of the grandeur, the complexity, the might, and for its distinct characters. And yes Krishna & Arjuna are my favorite characters of all time. I am no one to tell you whether the mythological characters were true, whether they lived here in this land and had magical powers, it's on your belief system. But when you are just a reader, the characters itself are more than enough to keep you engulfed. [I have reviewed Arjuna by Anuja Chandramouli and you can read it here.] There are times when you need to come above the fact that these characters in our epics are gods or demons with magical powers, and think of them as men, as leaders, and people of flesh and blood and not people capable of doing magic. The author, Anand Neelkantan, takes a very similar stand in his book.
Coming to Asura, this takes us back to Ramayan another mighty epic and shows us Raam & Ravan in a whole new light. It is the story of the Aryans & Dravidians and how they got translated as Devasand Asuras. They were all mass leaders – Brahma, Vishnu, Shiva became powerful and became the epitome of leadership because of the followers. Not necessarily always with their magical powers. Both of these sects – Devas & Asuras were conquerors clashing with each other at numerous times.
Ravana, the Asura, is born of a Brahmin father and a Asura mother. He gathers followers against Kubera, his brother, who doesn't treat him fair and is ruling the Sri Lankan throne with Iron hands. He succeeds in it and becomes a powerful leader and conqueror. His might grows so big that he is able to conquer till the Himalayas. Sitais potrayed as Ravan & Mandodari's daughter in this book. (Wait till you read more). Ravana, fearful of Sita's fate bringing dark clouds of danger over his kingdom, sends her away to get rid of her. But she emerges in the kingdom of King Janaka, who brings her up as his daughter. [So that's how it gets connected to our Ramayana]. And the story goes on to the 'vanavas', the 'apaharan' and the war.
Bhadra is a new character here who is a blind supporter of Ravana as a result of getting unfair treatment from the Devas. Bhadra becomes ruthless and goes on to build and consolidate the Asuracommunity which is based on physical force, ambition, killings (much like what you see today).
The author definitely has some imaginations. It is difficult to write a different situation to an already popular and religious scripture. The way he creates the society structure of the Devas and Asuras are amazing. As you think about history and the caste divided system of our society earlier, it feels like maybe that is what the situation was. The social ladder of the Devas became murkier down the order with untouchables and Asura society had a socialist stand.
I found this quite an interesting. But the book is huge. May be we could have kept some detailing on check. But then it's the author's prerogative to decide how much detailed he wants his story to be.
Anand Neelkantan debuts with this novel. Asura also happens to be one of the best sellers of 2012. His next book is Ajaya which is also released now. From the corporate word to writing it's a good change that he has made. He also writes columns in leading News dailies. You can read more about him in his website
My Rating – 4/5.

It's a very interesting read if you like mythology, and fiction
Book – Asura: Tale of the Vanquished
Author – Anand Neelkantan
Publisher – Leadstart Publishing
———————————————————————————————
This book was sent by the publisher Leadstart Publishing. These are entirely my own views and I try not to be biased while reviewing.
———————————————————————————————