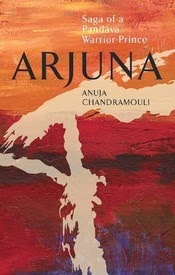 I have been reading all kinds of books recently and am enjoying it. Recently I was reading this book
Arjuna – Saga of a Pandava Warrior Prince.
Mahabharata for me is less mythology and more of an enigmatic story valor, relationship and some where works as a moral story.
I have always been interested in the story of Mahabharata by Ved Vyas – the greatest Indian epic story. Interest in Mahabharata of course was set in by Mr. BR Chopra with his Sunday episodes of Mahabharat on DD. Arjuna is one of my favourite characters from the story after Krishna, of course, so when the offer came up I gladly accepted the book for a review. Now let's see how the book was.
It starts with the background of the Kuru clan and comes down to the birth of the Pandavas to Queen Kunti with her divine boon. Arjuna – the hero of the book – is the son of his divine father Indra – the King of the Gods. Arjuna is the archery prodigy and is the shining star of the entire Kuru clan. His hunger for knowledge in art of archery and divine weapons is hard to match and he fashions himself to become the greatest warrior ever with his dedication.
He is the ultimate hero who is not only passionate about archery but is also king of romance and is involved with several women. From winning Draupadiin the swayamvar, to romancing Ulupi the Naga princess, from marrying Chitrangada the Manipuri princess to eloping with Subhadra the Yadav princess. He had his fair share of romance with his invincible charm.
Arjuna goes on to become a great warrior and he has an immense contribution in the battle of Kurukshtra to bring upon gloom on the Kaurava camp.
My Thoughts
Well because Mahabharata is such an immensely popular story I don't know what to write more on the story. Almost everyone knows it. Arjuna however, focuses on the heroics of Arjun in particular. But somewhere I also got a feeling that it's almost Mahabharata retold in a simpler manner. Arjun is an invincible warrior; he and Krishna are the epitome of friendship, his training in heaven, his stint as Brihannala and so on. However, there are some interesting parts which I never knew (at least I don't remembering reading them earlier) that Arjuna at one time had visited Rameshwaram during his 12 year teerth yatra and had a close encounter with Hanuman where Arjuna brags that with his skill or archery he could have created a bridge to Lanka faster and he could have avoided taking help from monkeys. The hurt hanuman breaks Arjuna's bridge made with arrows with a single tow and Vishnu had to appear to resolve the issues between the two. I was aware of the incident between Hanuman & Bheema but never knew about this one.
I felt if this story (the entire Mahabharat) was told from the point of view of Arjuna himself it would have given a different dimension.
About the Author
I came across the author's blog where she mentions she is a stay-at home mother of two who wants to make it big as a writer. Arjuna is Anuja's first book. As a maiden venture she has done a decent job. Though I wanted more from it, but I Iiked her simple writing style. You can read more about her here.
My Verdict – I will rate it a 3/5
Author – Anuja Chandramouli
Publisher – Leadstart Publishing / Platinum press
Genre – Mythology Literature
I can see there are good offers in SnapDeal & FlipKart on this book
———————————————————————————————
This book was sent by the publishing house. These are entirely my own views and I try not to be biased while reviewing.
———————————————————————————————