Food always catches my attention, and  I guess that's pretty clear from my posts and food blog! When I saw Mayuri coming up with her e-book with her favorite foods and anecdotes about herself, I knew I'll be reading it. I know the author, Mayuri for some time and know how much she loves food and desserts and I am always wondering how she knows about all these beautiful Indian desserts from different parts of India which I probably have heard first on her blog! Read the book review below.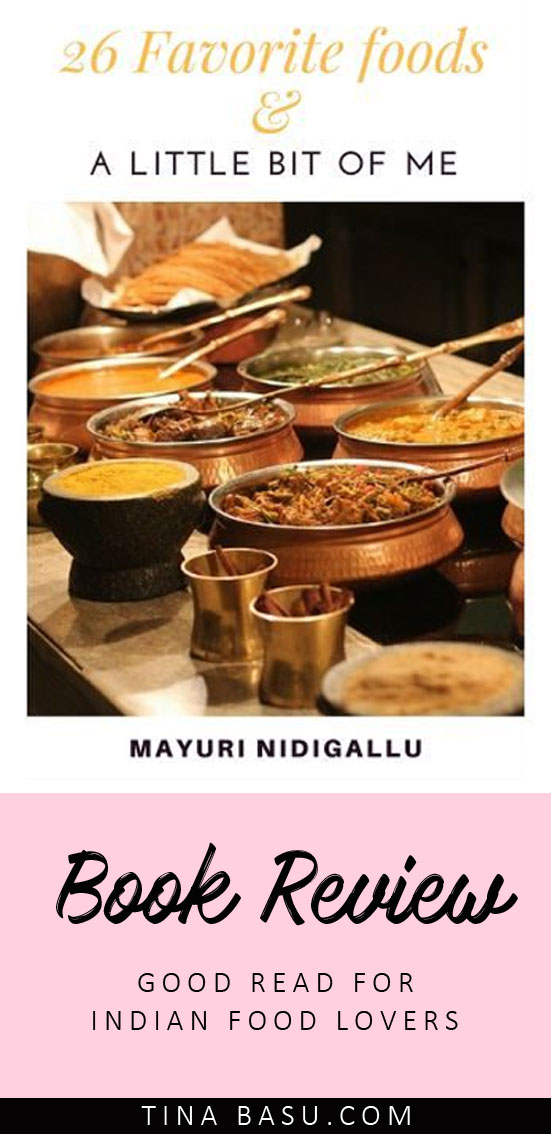 My Experience of 26 Favorite Foods & A Little Bit of Me
Mayuri is born in a Punjabi family, however, her mom's from Rajasthan and later Mayuri got married in a family from Andhra. Her husband's family is based out of Chennai – so I am not surprised when the book takes us on a India heritage tour through food. My knowledge on food from the Southern part of the country is limited to what I had in college – because I am not a big fan of coconut oil or tamarind. When the first chapter opens with Adhirasam – I was quite skeptical thinking how can you make half a rasam! [Adhi or adha in Hindi is half, so I let my superfast thinking decide it's half a rasam]. No I am not joking, I was seriously thinking it might be taking half the ingredients or half the time! But it turned out to be a traditional Tamil dessert and it has nothing to do with rasam, howsoever!
Similarly, I never knew there was an Indian version of the Dulce de leche! The Belagavi Kunda happens to have formed out of a mistake and very few perhaps are aware of it! The book takes us through many delicacies from Tamil, Maharashtrian, Gujarati, Bengali, Rajasthani, Andhra and Punjabi cuisines and every recipe and food story sounds mouthwatering.
She says "Her palate has tasted a lot of flavours and eaten food with unpronounceable names"!  When you go through the entire book you realize what she meas. I personally have never heard of  Obbattu, Thaalipeeth, Ukdiche or Zunka! But they all sound interesting when you know what they are.
Apart from food she also has these fun anecdotes from her life. Did you know she owned 8 blogs!
About The Author
Mayuri is a Tarot Card reader and a writer. She has been a magazine columnist and a freelance writer. She writes on food, travel, life, beauty hacks, food stories et all in her Lifestyle Blogazine Sirimiri. She is a Punjabi born and brought up in Mumbai and married to a Telugu based out of Chennai, no wonder her palate is so rich and experienced with so many regional cuisines!
My Verdict – 4.5/5
If your idea to destress is food, or you like reading about foods of India, get this book for FREE here right away.
-This review is part of Blogchatter Ebook Carnival-