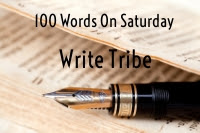 So it's Saturday and I have a prompt waiting in my inbox from Write Tribe for the #100WordsonSaturday.

Good enough because I was thinking what to write. And specially with blogging everyday sometimes I don't know what to write and sometimes I can't choose what not to write! Over active mind!
Anyways the prompt today is not about writing any fiction or other stuff. Prompt is to write about a time when I gave some good advice about writing or blogging. And if you know me I am good at advises! Both giving and taking, mind you!
100 Words from your
Adviser
I started my first blog while in college and I helped some of my classmates on their blogs. In fact I had taught them writing meaningful content rather than a diary entry.
I have always maintained content is the master of your blog. Its better you write on your niche. I, however, didn't stick to a single topic. I write on – literature, fiction, book reviews, social topics and some more.
Hope you enjoyed the 100 words today.
If you like my blog and posts that I write CONNECT WITH ME ON SOCIAL MEDIA and never miss a post.






————————————————————————————————————————–
This post is written for #100WordsonSaturday at Write Tribe

Linking this post to Ultimate Blog Challenge July, NabLoPoMo July, and Ultra Blog Challenge July.

—————————————————————————————————————-