The entire day I was on twitter. Blogadda gave me a high BP on this otherwise quiet Saturday. I had told you earlier I am taking part in this fiction writing contest in collaboration with nine other fellow bloggers. Our team's name is By Lines and we are rocking it…. Yes literally.
Today Blogadda announced the results of the Game of Blogs Round 1. As promised earlier about 10 teams were going to the next round out of 30. So I waited with bated breath for the results. They started tweeting names of teams with all the suspense and thrill. I was literally losing it when my team's name didn't come up in the first five names. I am obviously very positive about our story. We are attempting something which no one has thought of (in the teams that is).
Numerous tweets amongst restless minutes only made me go nuts. Twitter, FB, Whats App was all abuzz with the activity and yes my pulses were racing. But hold on, we did go to the second round. I think ours was the 14thname that was announced bring back our hearts in the correct place. I had mine almost slipping through my mouth until that tweet.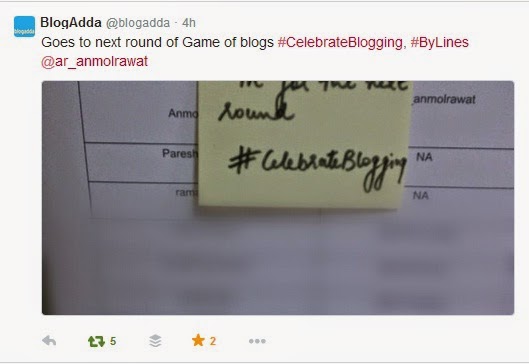 But wait… this isn't all. All that stress and all that suspense had an anti – climax at the end. We figured out all 30 teams are going into Round 2. Now what does it make you feel??? Happy or a little low? Frankly for me it's a little low. Anyways, round 2 is here and I am sure we'll do good. What do you think?
Read my teams first 8 chapters by 8 awesome bloggers by clicking the following links. (One of those awesome bloggers is me :D). And tell me if you are enjoying it or not?