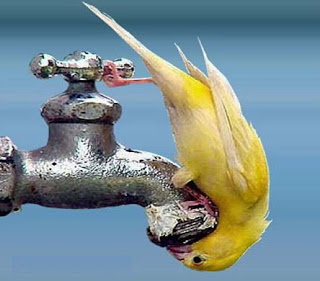 Image Source: Google Images
Over the last few years Bangalore has changed considerably. Soaring temperatures with a record high ever this year have added on to the woes. The newest addition on to the list is the drastic water shortage throughout out the city. Scorching heat, water scarcity and errant power cuts are making life difficult for people in the city and its suburbs. There's no sign of the pre-monsoon rains so far apart from some rare showers once in a while. When I was doing my post grads we used to love the daily evening showers which usually started by March.
However, water crisis seems to have touched new heights this year. With the
circular
from Bangalore Water Supply & Sewerage Board (BWSSB) about no water supply in the city from June 12-14, I am sure, many like me had the same question in mind – how to survive without water for three days straight?
I personally have gone to the extent of buying huge buckets and drums to store water but even that is falling short at times. In a very irritating pattern water supply goes off just when I am about to get ready for office or when I want to take a shower in the night! In my building they have a bore well as well as Cauvery water but still we have been facing this for last 2 days. I have been reading that the water tanker suppliers have happily washed their hands off telling they don't have the bandwidth to supply to the entire city. I somehow think this was the most lucrative opportunity for their business. BWSSB you have left us high and dry and I am just not liking it. It's too difficult to manage without running water even when you have some water stored.
I guess the happiest groups during this crisis are the house helps. My maid asked me this morning, 'what to do, no water madam, should I only wash the utensils and do jhadu?' How convenient for her, wash utensils in 10 mins and finish cleaning the entire house in another 10 mins and she is done!
On a serious note I don't see this water crisis resolving very soon in the future either. Bangalore has been expanding in all the four directions. All the real estate giants in the city are busy chopping off trees, digging bore wells and building taller & bigger projects. Half of these projects don't have a BWSSB connection and they survive only on bore well and tanker supply. And people don't seem like complaining and I fail to understand why. What's the point in investing a fortune in these projects where you know you will face a massive water crisis in the future. I myself am looking to buy an apartment and it's being extremely difficult to get a project which has ample water supply [BWSSB] & full power back up.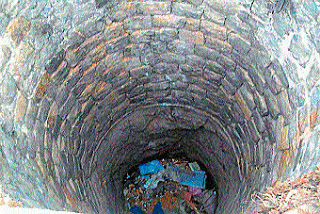 Dry wells in the city
image source: Deccan Herald
Over years of exploitation of natural resources around the city half of the lakes and water bodies have dried up & the water table has been receding. If things continue like this in another 10-15 years there will be almost no water left for anyone. The shocking stats mentioned in the Deccan Herald
article
only worsen this fear. I am sure this article will make you extremely sad.
I am mentioning some stats from the article:
– The 262 wetlands that existed in Bangalore in 1962 had declined to a whopping 58 per cent by 2007
– 51 active wetlands in 1973 dipped to 17 by 2007
– Of the 212 lakes, which the Palike claims the city has, 42 were reportedly lost due to developmental work. They are converted into housing societies, residential layouts, government offices, bus stands, stadiums etc
There are some more startling facts that I came across in the same article and I think I should mention it here.
Forty-three lakes have lost their entire character either due to government
projects or to private.
Prominent among them:
* Dharmambudi lake: Converted into the Kempegowda Bus terminus
* Sampige lake: Land used for the Kanteerava stadium
* Koramangala lake: Land used for the National Dairy Research Institute
* Akkithimannahalli lake: Converted into a Hockey Stadium
* Sunkal Lake: The land now houses the KSRTC regional Workshops
* Hennur lake: Converted into HBR layout
* Vijinipura lake: Now converted as the Rajarajeshwari layout
* Jakarayana Kere: Krishna Floor mills
* Tumkur Lake: Land used for Mysore Lamps.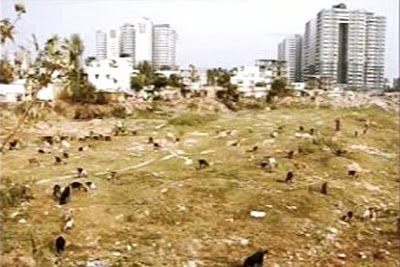 Allalasandra dry lake
Image source: ibnlive.in
People often lament that all these has occurred due to the massive migrating population that is present in Bangalore who come to work, use the city and then go back. I myself am from that same population, I have been staying in Bangalore for the past six years and now I call it my home. I am going to invest in a property so that I can settle here and it is as much my city as it is of any other Bangalorean. When the city is abused I feel bad too.
But instead of lamenting and blaming its high time people start thinking about this seriously or else we will be left in a drought-like situation. I don't know how much we can rely on the corrupt bureaucrats because I don't see the real estate giants getting any problem in getting the approvals even if it doesn't fall into certain categories.
Rainwater harvesting & groundwater recharge are the hot topics that I have been reading on for some time now. I don't know if that will solve the entire problem, but even if it does a little help we should think seriously about it. My building's association has been busy with meetings to decide where n how to accommodate a rain water harvesting area in the already built and packed housing society. And I am happy that they have started constructing it already.
Hope we come up with something fruitful or else the future looks dry.