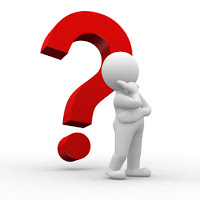 If you are active in any of the social media sites and listen to radio/ watch music channels on TV you cannot possibly miss the national craze among Indians now. If you have not heard any of these already… you must be in some other planet. The nation is going crazy behind two songs – 'Why this Kolaveri di' and Ooh Laa Laa.
For quite some time I have been getting these status messages on my FB page which spelt weird. I wondered suddenly why everyone is adding this generous amount of 'U's after every word in their sentences. And then someone posted the you-tube video of this man in moustache singing in a studio. I had ignored it first but then had to see when I realized almost everyone is going crazy over it.
You should also listen to it or else you will not understand the essence of this madness. Check the video here.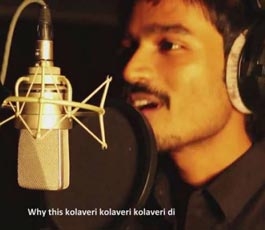 Let me admit I never knew who Dhanush is nor do I understand Tamil or have any clue about Tollywood of South, apart from the Great Rajinikanth. [I call it Tollywood of South because the Bengali Film Industry in Kolkata is also called Tollywood]. Anyways once I listened to the track I didn't understand what was so great in it that everyone is going crazy about it. May be to understand it better I listened to it again, but I didn't find anything great to go gaga about it. However, the same evening when I was in the kitchen I found myself humming the same tune!! I found myself humming it almost all the time, which was even a bigger surprise!! The song absolutely doesn't have anything – the lyrics don't make sense, much slower than a usual Tamil song, the tune is simple. Still I am humming it now and then in spite of not liking it – that's weird but that's exactly how it is. You cannot escape the 'Kolaveri' experience.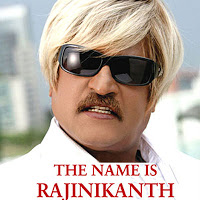 Or again you may say, when you have the Rajinikanth connection then all you get is a massive, gigantic, colossal, super duper (and can add all the superlative adjectives) hit/ success. [For those who don't know as yet – Dhanush is Rajinikanth's son-in-law].
This song is supposedly for a movie called '3' but even before the completion of the film this song has become a rage, you will see this song playing in every other music channel. And I couldn't believe my ears at work today when I heard few people have already set it as their ringtone!!
The second one is the funny and retro Ooh Laa Laa from the movie 'The Dirty Picture'. I am not bothered how dirty it is… or if any one feels its cheap… it is just too good, and I have been listening to it in loop for I don't know how many times a day. It plays in my i-pod, in my phone, I keep shuffling between MTV, [V], 9XM, E24, Zoom, UTV Stars and all the music channels possible so that I can get its glimpse.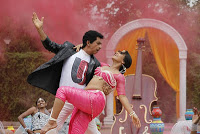 Is it the oomph of Vidya Balan that makes the song/video so famous, or is it the music? I feel music, lyrics, and Bappi Lahiri has made this song unforgettable. I am sure it will become a cult song, like Munni, very soon if not already. Check out the video here.
Music director duo Vishal-Shekhar with Bappi Lahiri has brought back the very retro and very filmy flavor of the 70s and 80s and somehow I feel Bappi da's voice makes all the difference in this song. And Mr. Rajat Arora please tell me where you get these lyrics from – 'Ladki tu hai badi Boombard' , 'Tu hai meri fantasy', its sounds so like some roadside romeo song but it's still so embarrassingly addictive. If I have to watch this movie I will probably watch it for this song alone. It so reminds me of my days in the PG with the girls where we used to dance to our hearts content (in whichever way we wanted) to all sorts of item songs. How often can you imagine a bare chested Naseeruddin Shah dancing to such a song?
I don't know when was the last time everyone whom I know were only talking about some particular song. I wonder if they play this Kolaveri song in the parliament sessions, it absolutely suits them. Anyways in this race I am definitely going Ooh La La than being 'Kolaveri'-fied. What are you?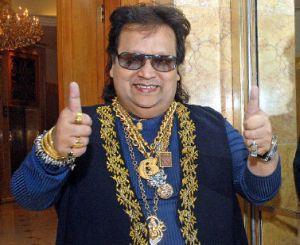 I am sure after this song's success there will be more gold added
in Bappi da's collection 🙂