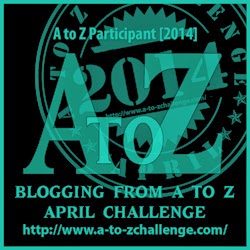 Hello there, so Day 20 is here, what a relief. 6 more days and then some rest for me. So what do we have today with T? It's Tormented. I am writing this post from my bed room because when I sit in front of the TV or do anything else I can't think much on the fictions. And I can hear my hubby watching Jamie Oliver! hmm…
Anyways I am quite late today already and am damn sleepy right now. SO here is the post and no more non sense from me.
He woke up suddenly in the middle of the night.
This had now become a regular affair.
Siddharth often had these weird dreams which made him feel very uncomfortable.
When he woke up he was soaked in his own sweat.
He went up to his study table by the bed and rummaged through the pull out drawer.
He grabbed the card and sat on his bed.
He thought whether he should call him now or not.
But one look at the clock held him back.
He looked at the card closely in the dim night light.
The letters were big enough… Nawaz Khan… Siddharth had got his card through one of his colleagues but never thought he will actually use it, any day.
But these dreams were getting worse by the day.
He always had these visions of gory murder scene and blood in his shirt… as if someone stabbed him from behind.
But today he saw a little more when he turns around. But the face of the attacker was not clear.
He was tormentedby this attacker and these wild nightmares where somebody attacks him from the back and he falls down with many other dead bodies strewn across the place.
When he had mentioned about these visions, over lunch at work once, only
Murthy was sympathetic and others laughed it off. Murthy sourced this card from somewhere and gave it to Sid one day.
He re-read the card… Nawaz Khan – Past Life Regression Therapist.
He made a mental note that he will call up Khan the next morning. Now even
Sid had enough of these visions and wanted to ascertain if it had any link with his past life.
————————————————————————————————————————
Linking this post to A to Z Challenge 2014 for Day #20 – post starting with T.
Visit
A to Z
and read awesome posts by bloggers.
I am also participating in this challenge from my cook blog. Visit
Twinkling Tina Cooks
for awesome indulgent recipes, and show some love.
——————————————————————————————
Leave a comment below if you liked the flash fiction and if you want me to write more. Your comments mean a lot to me.