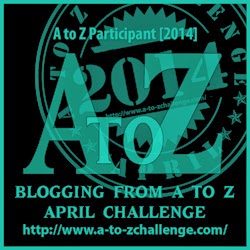 Its the P post and today's emotion is Pain.
When she'll be at peace
It took everything away from her.
Her beautiful smile, her high spirits, those twinkle in her eyes… It slowly took away all of them.
The once beautiful bright young Niki today was a lone, her only friend was her mother – the rock solid woman.
She knew behind the rock hard face was a heart which had a storm within but she contained that storm.
Niki forced a smile on face when ever mother was around.
The pain was unbearable sometimes… still she smiled at mother. Both had no one else in their lives.
She didn't know how long mother will have her.
The chemotherapy sessions were not working much, and one day she knew she will be gone…and with her the pains… may be that day she will be at peace.
————————————————————————————————————————
Linking this post to A to Z Challenge 2014 for Day #16 – post starting with P.
Visit
A to Z
and read awesome posts by bloggers.
I am also participating in this challenge from my cook blog. Visit
Twinkling Tina Cooks
for awesome indulgent recipes, and show some love.
——————————————————————————————
Leave a comment below if you liked the flash fiction and if you want me to write more. Your comments mean a lot to me.